Longest Range Electric Cars 2022
The range of EVs has been hot topic since they first came on the scene. But what's the latest on the electric vehicle range? Learn more about the range of electric cars and see what models are built to go the distance.
What are some of the longest-range electric cars to date? And just how easy is it to keep your EV charged? Let's take a look at a few long-range EVs and the benefits of going electric.
Top 3 longest range electric cars right now
The longest-range electric vehicles are, not surprisingly, more expensive than most of your average-range EVs. Having a battery with the capacity to go over 400 miles in one drive would require a high-performing vehicle in all respects, giving them a higher price tag. That being said, there are many long-range EVs to choose from that are both powerful and affordable, going up to as much as 300 miles.
But for now, here are the top 3 longest range electric cars in the UK this year.

1. Mercedes EQS hatchback


Sleek and streamlined, the Mercedes EQS hatchback has a range capacity of 453 miles. That's enough to get you coasting across the UK! It's known for its luxurious interior and wistful handling, and like the rest of the Mercedes family, it will have you swooning at its advanced technology and cutting-edge features.

See our Mercedes EQS lease deals here.
2. Tesla Model S


The Tesla Model S is arguably the electric car role model of 2021 and stands among the UK's favourite electric car families. With a striking range of up to 405 miles, you'll have no trouble getting where you need to be, allowing you to experience a smooth, silent drive day in day out.

See our Tesla Model S lease deals here.

3. BMW iX SUV


Number 3 on the list is the BMW iX SUV – a smart, executive EV with an impressive range of 380 miles. It is priced on the more expensive side, but with its avant-garde features and dynamic drive, who can argue with that?

See more affordable BMW iX leasing options here.
Will you get range anxiety?
Getting from A to B in an electric car has caused what is known by some as "range anxiety". For as long as we can remember, a petrol run car always seemed easier to maintain. If you need fuel, you just fill up at the nearest petrol station. But an electric car? Well, that was a different story.
• What happens if I run out of range?
• How do I charge an electric vehicle?
• How often will I need to charge my EV?
These are just a few of the many questions people ask, and for good reason! When electric cars began to gain some popularity, their range was somewhat questionable and there wasn't clarity on how to charge an EV or even where to charge it when you needed.
But with the advance in technology, the EV scene has changed and the range of electric vehicles has dramatically improved. Nowadays, some of the highest range electric cars go up to 450 miles, with the lower range models hitting over 200 miles before needing to be charged. So if you are thinking about making the switch to an EV, you can be assured that not only the range but also the access to charge your vehicle has become widely accessible across the UK.
After bursting the myth that electric cars still cannot travel long-distance, just how easy is it to charge a long-range electric vehicle? Here are a few pointers that will help you understand how accessible charging and EV can be.
How easy is it to charge an EV?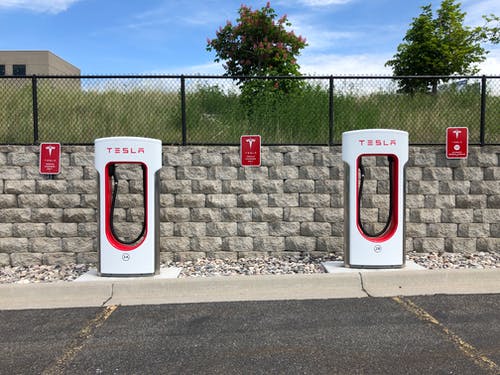 With the UK's plans to ban petrol and diesel cars by 2030, the push for electric cars has never been stronger. However, a few questions remain, and how to charge your electric car is definitely one of the questions adding to the stress of it all.
Charging your electric car is much easier than you may think. The government has made charging electric cars simple by providing four straightforward charging methods:

1. At home
2. At work
3. Public locations
4. Service stations
For more information regarding these charging methods, see our Electric Guide.
Great range EVs for an affordable price
Electric cars have really come a long way in terms of technological advances and have had to fight for their place in the industry. Now they have proven they have the capacity to take on over 400 miles on one full charge, leaving no question about their place in the market. However, most long-range EVs are typically more expensive to buy in comparison to fuel-run cars. That's why we at FVL have worked hard to shop the market and find the most affordable electric lease deals on EVs that have great range capacity.
See our electric car lease deals here and see if you're ready to go green with an eco-friendly EV.
Still have range anxiety?
We understand that the electric car industry can seem daunting, especially if you are new to the idea of driving an EV. But no need to worry. With our team of electric car specialists, you'll be able to answer any questions you have and get your head around any technical jargon.
We're here to help, so give us a call or shoot us an email.