EV smart home charger offer

Get an EV smart home charger installed for a fixed installation cost of just £959 inc VAT.
What is Project EV?
If you're thinking of going electric, FVL has partnered with Project EV to bring the future of home electric vehicle (EV) charging to you.
Project EV specialise in providing cutting edge electric vehicle charging points, connecting customers with technology that breaks boundaries.
Their goal is to help people finally make the switch to clean and affordable energy by adopting smart charging for electric vehicles.

Project EV Electric Car Chargers

With a wide range of floor and wall-mounted AC and DC electric car chargers, our technology provides you with the high energy output you need to keep your EV charged and running well.

Our electric vehicle charging points come with full electrical and temperature protection, compact design, smart apps, and they are all tested to European standards, with an OCPP v1.6 open charge point protocol.

5 Year Warranty

Project EV offers the best warranty on the market for all AC chargers, offering five years warranty protection.

Free Mobile App

Available on Apple and Android, the Project EV Pro App has no upfront cost and allows you to set charging times for your car.

Benefits

Onboard RCD Isolation

Dynamic Load Management

Solar Compatible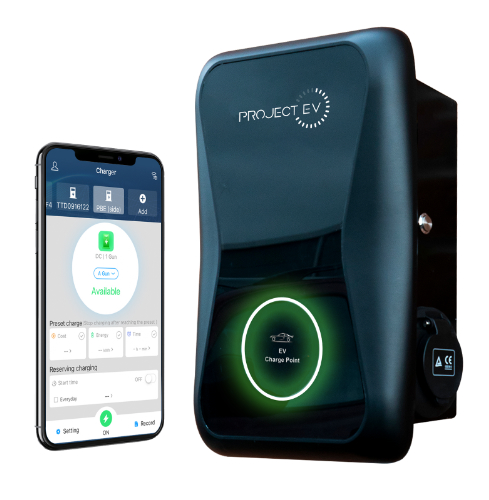 EVA-07S-SE [The Pro Earth 7.3kW]
The EVA-07S-SE is a single phase AC charging station, packed with features that is ideal for domestic use. This charger comes with a market leading five year warranty, compact design and solar compatibility. This charger also has time shifting capabilities giving you the opportunity to save £100's per year*, a cable lock system for added security, free mobile monitoring app, and a dynamic load balancing system.
With the charger being a pro-earth unit, there is no need for any further protection or the addition of a costly earth spike installation. All the earthing protection is included within the charger as standard.
*The amount of potential savings you can save per year depends on your energy provider, and your set energy tariff rates.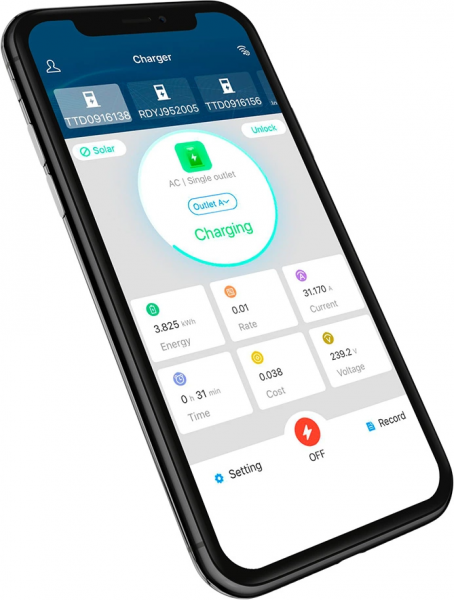 Project EV Pro App
The Project EV Pro App offers a truly multi-faceted central operation hub to monitor all of your charge points. Providing ease-of-use, live updates, and a secure payment system - our Pro App is available on both Apple and Android platforms at no upfront cost.
Our subscription plans come in three tiers; Basic, Advanced, and Professional. So, you only pay for the features you want, without being burdened with the cost of a host of features you don't need. In short, if you want to generate revenue from your charging stations, Project EV's smart CRM offers full oversight of all chargers and payments.
Buy your charger today
or
Download more information
Project EV Free App
With the Project EV free app, you can set times for charging your car at different electricity rates, for example: Economy 7; Solar production peak times; and time of use tariffs. It also features a built-in boost facility, allowing you to override the smart EV app in case of a charging emergency, and remote control - to turn the EV charger on or off via your smart devices.