Car Leasing London

FVL has been leasing cars to London since 1998. Offering every make and model of car, van, or pick-up truck available, you know that you will be able to secure the vehicle you want to lease. We compare prices across our hand-picked panel of ten lenders to guarantee you the best value car leasing package.

Compare all 5000 car lease deals Special Offers Cars in stock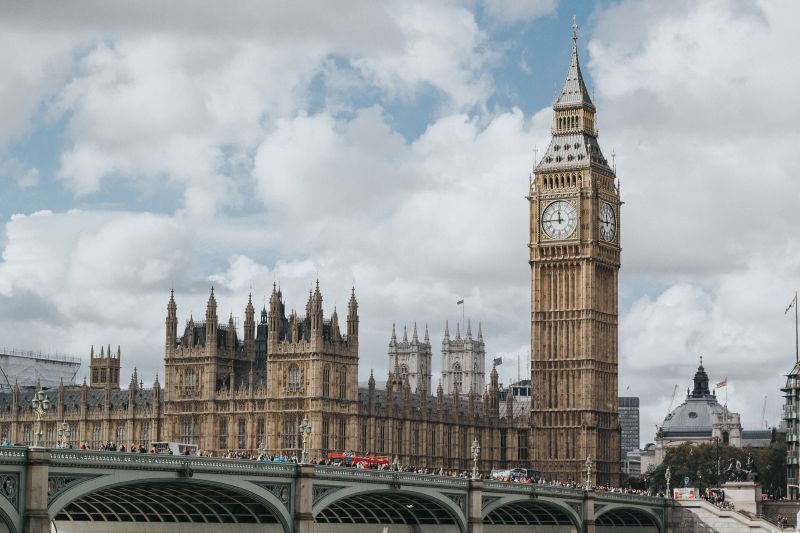 Best car lease deals in London
Driving around Greater London
London has some of the world's top sights to see. Visitors can see amazing attractions such as the London Eye, the Houses of Parliament and Big Ben, Tower Bridge, Buckingham Palace, Trafalgar Square and much more.
Driving in London is challenging, particularly at peak times. If you find that a car journey is essential, it's important to know there is a Congestion Charge, an Ultra Low Emissions Zone (ULEZ) and Low Emission Zone (LEZ) to navigate through.
Greater London Red Routes
In addition to the single and double yellow lines, you will notice Red Routes. On Red Routes you'll find red lines parallel to the kerbside, which means "no stopping" at any time, but there are exceptions for licenced taxis and blue-badge holders. Fines are currently £160 (May 23) for stopping on a Red Route, driving in bus lanes, blocking yellow box junctions and making illegal turns.
Getting to London by road
London is easy to get to by road via the UK's motorway network. The M1, M3, M4, M11, M20, M25 and M40 motorways are in or near London and the capital has a multitude of major A-roads. All of London's motorways intersect with the M25 orbital motorway. London's airports are also well connected by road. However, if you must use the eastern section of the M25 regularly, you'll likely need to pay the Dartford Crossing charge.
Best tips for driving in London
The best tips for driving in London are:
Stay calm
Be prepared and concentrate on your journey
Be aware of regular city users, lots of cyclists, pedestrians, bus lanes and taxi cabs stopping quickly
Minimise distraction by turning off the radio and follow your pre-planned route

Car leasing in Greater London
For many people in London, leasing a car is a more attractive option than buying one outright. Are you looking to find your next lease car and live in London?
Pros
Car leasing lets you choose from the whole market, and offers you fixed monthly rentals making it ideal for budgeting.
Our unique special offers give you cheaper car lease deals to choose from, helping you save money each month.
You don't have to worry about the car losing value over time. Simply lease your car and hand it back at the end of the term.
Our lease cars are brand new, so you will receive the full warranty, road tax for the term and breakdown recovery.
Delivery is included to anywhere in the UK mainland.
We shop the market place so don't have to. Using our panel of the ten of the best leasing companies.
Cons
Being a lease, you won't own the car; once the lease term is up, you'll have to return the car.
It pays to be accurate with your mileage allowance. There are mileage charges should you go over your contracted miles.
Because our car lease special offers are constantly changing, you may miss out on the best offer for you if you wait too long.
There can be a termination fee should you want to exit your contract early.
If the price of road tax increases, you will have to pay the difference.
If you return the vehicle damaged, you will have to pay for the repairs.

London's Clean air driving zones
London's Controversial Clean Air Zone policy is a devolved plan implemented by the elected London Mayor and sanctioned by the elected London Assembly. Its' basic principle is to clean the air in London by charging motorists a fee. There are three zones as follows:
Congestion Charge Zone
The Congestion Charge Zone operates in central London. Congestion Charge zone operates from 07:00-18:00 Mon-Fri, 12:00-18:00 Sat-Sun and bank holidays. No charge between Christmas Day and New Year's Day bank holidays (inclusive). The daily charge is £15 per day(May 23). Battery cars are exempt until 26/12/2025
Ultra Low Emission Zone
The Ultra Low Emission Zone, ULEZ, operates 24 hours a day, 7 days a week. The charge for non-compliant cars, i.e. Euro 4 (Petrol) and Euro 6 (Diesel) Daily ULEZ, is £12.50. The fee is the same for drivers of small and medium size vans up to 3.5 tonnes; minibuses, horse boxes and other specialist vehicles must also comply with Euro 4 and Euro 6 standards (generally post-2016). Larger non-compliant commercial vehicles must pay the wider Low Emission Zone (LEZ) charges.
Ultra Low Emission Zone (ULEZ) is expanding across all London boroughs from 29 August 2023. This will cover the same area as the current LEZ zone. The best way to pay your fees is to register with the Transport For London auto-pay; this is free to apply and ensures that you don't incur heavy penalties for missing a payment.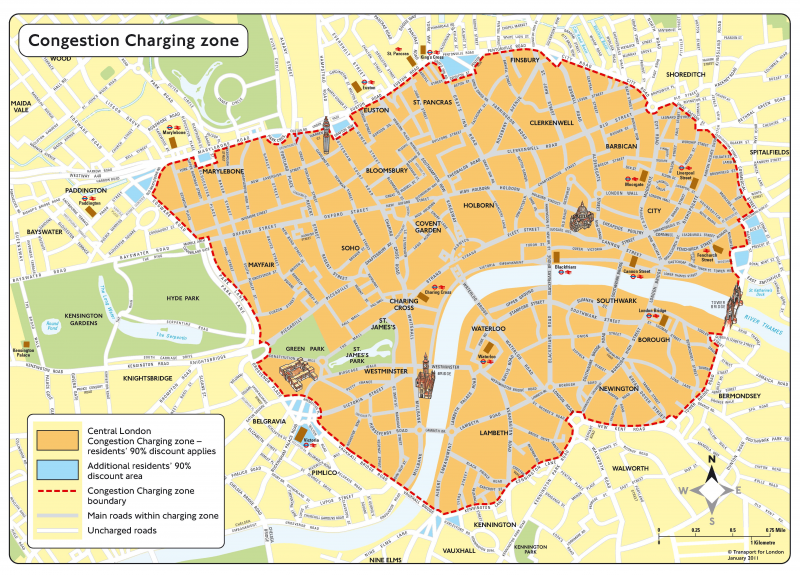 Low emission zone
The Low Emission Zone, in general, is inside the M25 circular. Lorries, vans, or specialist heavy vehicles over 3.5 tonnes gross vehicle weight (GVW) and buses/minibuses or coaches over 5 tonnes GVW must meet the minimum emission standard: Euro 6. Charges are. Non-UK vehicles must be registered in advance.
£100 for vans or specialist diesel vehicles (over 1.205 tonnes unladen weight up to 3.5 tonnes gross vehicle weight) or minibuses (up to 5 tonnes) which do not meet Euro 3 standards. 
£100 for HGVs, lorries, vans,   specialist heavy vehicles over 3.5 tonnes , buses/minibuses and coaches over 5 tonnes which do not meet Euro 6 standards but meet Euro 4.
£300 for HGVs, lorries, vans,  specialist heavy vehicles over 3.5 tonnes , buses/minibuses , and coaches over 5 tonnes, which do not meet Euro 4.
Driving an HGV over 12 tonnes, you must obtain a permit Direct Vision Standard (DVS) to operate within the LEZ, UK and Non-UK registered vehicles. This is free to apply and subject to a direct penalty notice if not obtained.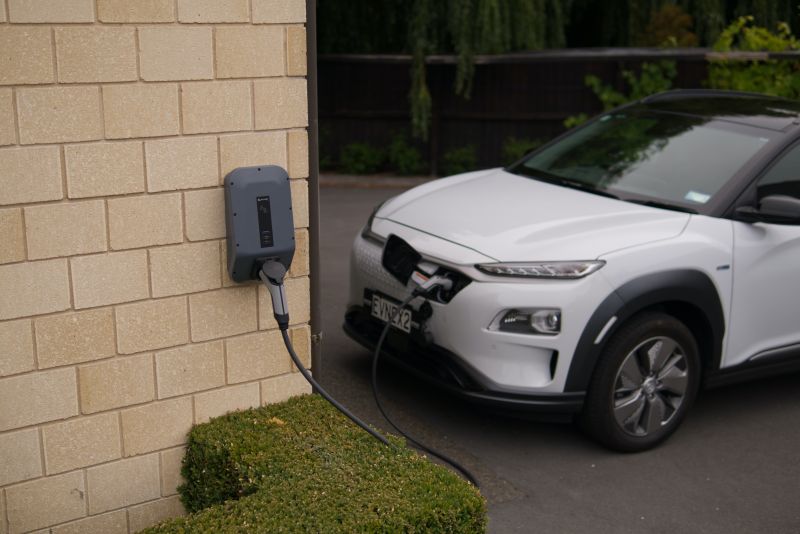 London's EV Chargers
London has about a third of all EV chargers in the UK, with over 13,000 devices within the Greater London area.
Slow charging in London
Slow charge points are defined as those that provide power up to 7kW and are best used for long, often overnight charging. For the majority of London residents who do not have access to off-street parking, this isn't possible. London boroughs have delivered thousands of slow public EV charge points on-street, making it possible for those without off-street parking to charge their vehicle near their home. These charge points are often installed in or on lamp post columns.
Fast Charging in London
Fast chargers with 22kW charge points are often found at key destination locations, including public car parks, town centres, leisure centres and workplaces. Rapid charge points are found close to major roads. They have been delivered as single units in on-street locations and hubs in off-street locations in London.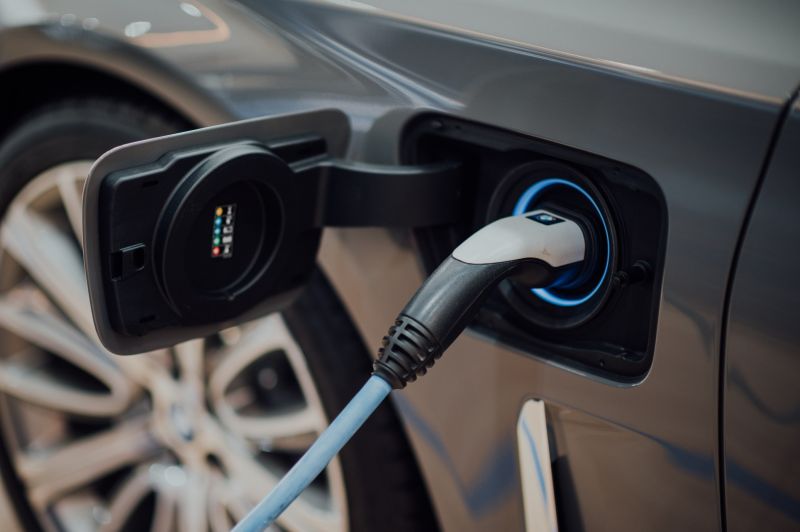 EV Chargers at Motorway Services coming into London
M1 Welcome Break GRIDSERVE Electric Highway 50kW CCS, 50kW CHAdeMO & 22kW Type 2 NW7 3HU
M3 Fleet Services on both sides: GRIDSERVE Electric Highway 50kW CCS, 50kW CHAdeMO & 22kW Type 2 plus north-eastbound only: Tesla Supercharger 120kW & 150kW CCS GU51 1AA
M4 Heston Services - Moto. M4 Junction 2/3, Heston, Hounslow, Middlesex ,. on both sides: Tesla Supercharger 250kW CCS plus westbound only: GRIDSERVE Electric Highway HPC 350kW CCS & 100kW CHAdeMO and eastbound only: GRIDSERVE Electric Highway 50kW CCS & 50kW CHAdeMO TW5 9NB
M11 Birchanger Green services GRIDSERVE Electric Highway 50kW CCS, 50kW CHAdeMO & 22kW Type 2; Tesla Supercharger 120kW CM23 5QZ
M40 Shell Beaconsfield services GRIDSERVE Electric Highway 50kW CCS, 50kW CHAdeMO & 22kW Type 2; IONITY 150kW CCS HP9 2SE
M20 Esso Maidstone services GRIDSERVE Electric Highway 50kW CCS, 50kW CHAdeMO & 22kW Type 2; IONITY 350kW CCS ME17 1SS
M25 Most have 350kW Chargers, GRIDSERVE, Nomad and Tesla
M25 Clacket Lane services J5-J6 East TN16 2ER
M25 Cobham services J9-J10 KT11 3DB
M25 South Mimms services J23 EN6 3QQ
M25 Thurrock services J30-J31 RM16 3BG
Using public transport in London
Transport For London (TFL) is the umbrella organisation that delivers the daily running of the London transport system. It is highly recommended that you download the TFL App TFL GO Apple or Google.
You can get live bus, train and tram times and the quieter times to travel, along with updates on all bus, Tube, London Overground, DLR, Elizabeth line and tram lines. You can also check walking and cycling routes for parts of your journey, including information on toilet locations, platform access and live lift status.
The London Underground "The Tube" is a comprehensive subway system with 11 lines and over 270 stations. It covers most areas of Greater London and is a popular choice for commuting and travelling within the city. The new Crossrail Elizabeth line has given the transport system additional capacity from East to West through the centre of London. It is also recommended that you register for The Oyster contactless card for paying on the tube and other transport services.
London has an extensive bus network operating throughout the city, including many night buses. Buses are a great way to explore different areas of London and offer a more scenic view of the city.
Several major airports serve London.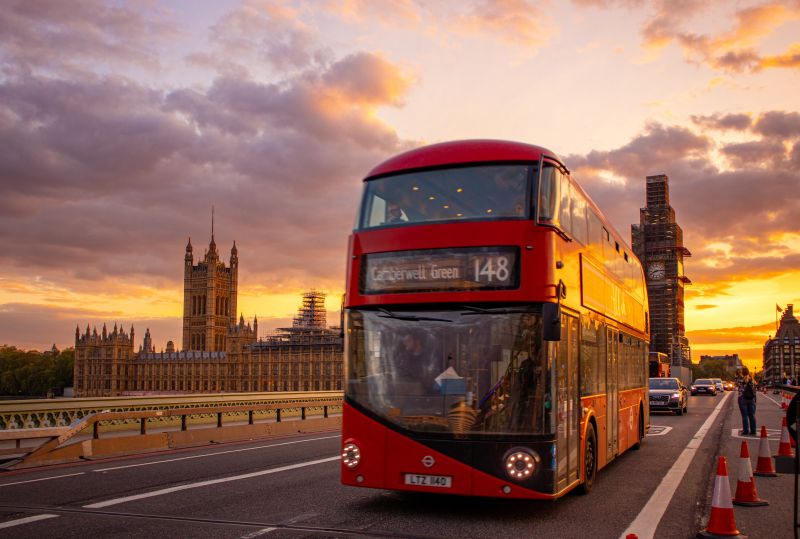 Motorways in Greater London
These motorways, along with other A-roads and local routes, form a comprehensive road network that allows access to London from various directions before travelling.
The M1 is a major north-south motorway that starts at the northern outskirts of London and connects the city with the Midlands, North England, and Scotland.
The M3 motorway connects London with the south coast of England. It starts at Sunbury-on-Thames, southwest of London, and goes to Southampton.
The M25 is a major orbital motorway that encircles Greater London. It provides access to all city areas, connecting radial routes and major airports. It is one of the busiest motorways in the UK.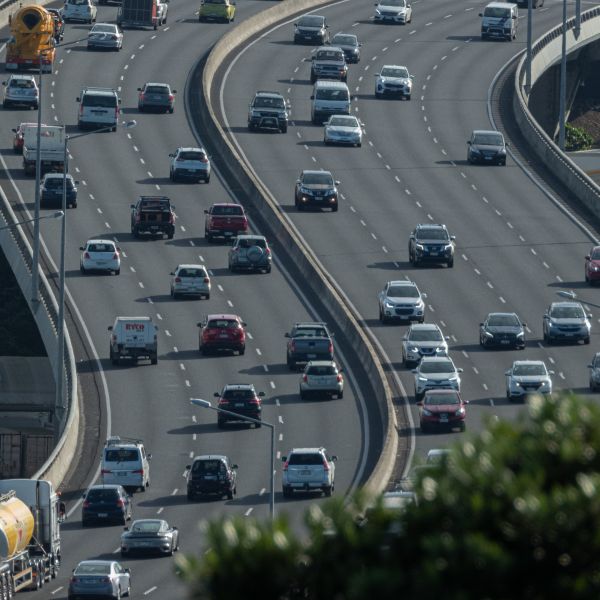 Parking Around london
Like everything else to do with the motor car in London, pre-booking and planning is a good idea. If you are driving to and around London, you need to know that street parking is extremely difficult with parking restrictions in place from 8.30 am until 6.30 pm Monday to Saturday.
National Car Parks (NCP) operate over 100 carparks around London, including Airport parking.
Q-Park operates 16 car parks in Central London, including all the top tourist sites. (May 23)
Oxford Street 432 spaces from £9.50 ph
Park Lane 981 spaces from £9.00 ph
Soho 162 spaces from £9.50 ph
Leicester Square 247 spaces from £9.50 ph
Chinatown 254 spaces from £9.50 ph
Knightsbridge 200 Spaces from £9.50 ph
Harley Street 214 spaces from £9.50 ph
Tower Bridge 502 spaces from £6.50 ph.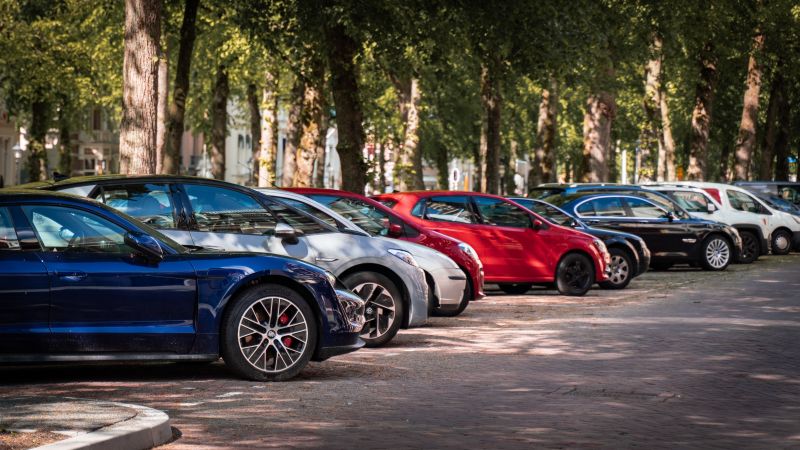 London Park and Ride
No official Park and Ride facilities serve London. However, the 3 places below are convenient tube stations with good parking. You can travel into London quickly, avoiding the congestion charge and the traffic. All are staffed and open 24 hours.
North Ealing - Piccadilly Line (North & West) W5 3AF
Morden - Northern Line (South) SM4 5AZ
Leytonstone - Central Line (East) E11 1HE
For privately owned carparks pre-bookable, refer to Parkopedia prices from £4.50 ph.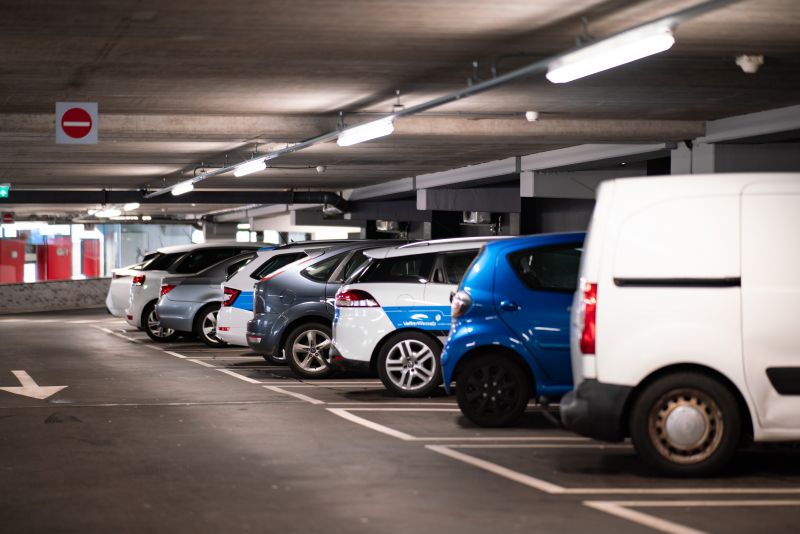 Parking scheme concessions
Blue Badge
Blue Badge Holders, according to the City of London website, "The Blue Badge scheme does not fully apply". Still, they provide allocated parking in the Square Mile for people with disabilities. Monitoring the Blue Badge holder's certificate is strictly observed; for further restrictions (Red Routes), please read the Basic Guidance.
Red badge
The City of London Corporation runs its own Red Badge parking concession scheme, valid only in the City of London, for people with disabilities who are permanent workers or City residents.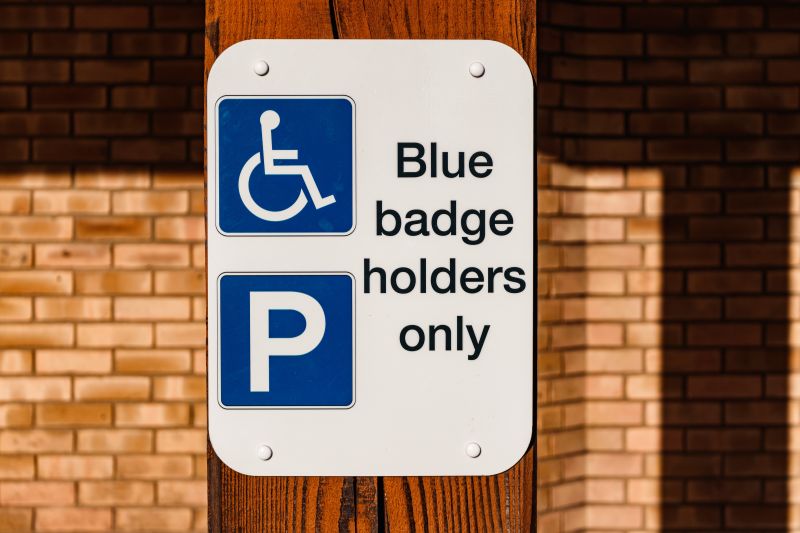 Helpful Car Leasing Insights
Below you can find answers to our most commonly asked questions about car leasing in London. If you can't find the answer you're looking for? Get in touch.
First Vehicle Leasing has leased vehicles to London for twenty-five years. Being wholly owned by the Ogilvie Group brings FVL to secure the best deals from your favourite car manufacturers. We shop the market for the best possible leasing package from our panel of ten hand-picked leasing companies to bring you the best deal. Our leasing consultants are on hand to take you through the process.

Established in 1998, we're industry experts with a wealth of experience. As an FVL customer, you benefit from the strength of our partnerships with leading finance companies to bring you low prices and flexible leasing options. This means we can tailor deals to suit your needs. Our deals start from under £200, so you'll find a vehicle for even the tightest budget.

At First Vehicle Leasing, our aim is to provide the best car leasing solutions and unbeatable service for our customers across the UK. To bring you the best deals we use a rating system. Our proprietary ranking system has been developed over 25 years and takes into account features of each model compared to its rivals. The primary categories used are length of lease, mileage limits along with a car's performance, practicality and tech features. We go direct to negotiate highly competitive deals on all our vehicles, so we can offer the very best deals.

Car leasing is simply a longer hire of a new car using a credit contract for a set period, usually between 2 and 4 years. They offer low fixed monthly rental payments until the end of the contract, and then you hand the car back.

With a standard car lease deal you will find included:

Full vehicle manufacturers warranty.
Road Tax for the length of the lease.
Free UK mainland delivery, right to your door.

With a standard lease, you are responsible for insurance, charging and (or) fuel costs, damage, servicing, and maintenance.

If you wish to include servicing, premium branded tyre replacements, and maintenance, you can opt-in for what is called a Lender Maintained Lease.

Your lender-maintained contract hire includes all of the above with a few extra additions.

Those include:

Servicing
Maintenance (even things like wipers, bulbs, brakes, exhaust)
MOT for leases over three years
Breakdown recovery
Premium branded tyre replacements (and often puncture repairs too)

When you lease a car with FVL, you benefit from a range of special deals and offers. You'll also get one-to-one expert advice on which car to choose, how the process works, and how to get the most out of your vehicle. We have access to every new make and model of car available in the UK, including the latest electric cars.