Car Leasing Chester

FVL has been leasing cars to Chester since 1998. Offering every make and model of car, van, or pick-up truck available, you know that you will be able to secure the vehicle you want to lease. We compare prices across our hand-picked panel of ten lenders to guarantee you the best value car leasing package.

Compare all 5000 car lease deals Special Offers Cars in stock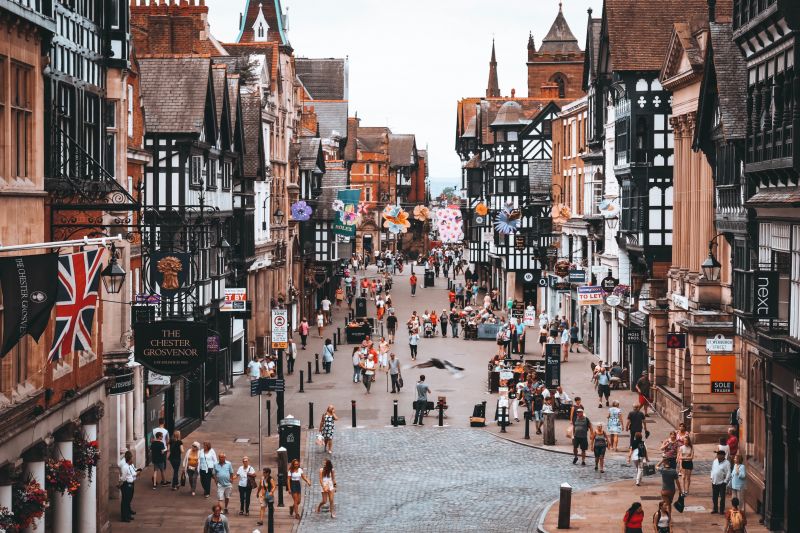 Best car lease deals in Chester
Driving tips for Chester
Chester is known for its pedestrian-friendly streets, especially in the city centre. Be aware of pedestrians near the Cross and other tourist attractions, particularly in areas with heavy foot traffic. The general system is a circular ring road around the City walls,the Roman digs and passes the famous racecourse.

Car leasing deals in Chester
For many people in Chester, leasing a car is a more attractive option than buying one outright. Are you looking to find your next lease car and live in Chester?
Pros
Car leasing lets you choose from the whole market, and offers you fixed monthly rentals making it ideal for budgeting.
Our unique special offers give you cheaper car lease deals to choose from, helping you save money each month.
You don't have to worry about the car losing value over time. Simply lease your car and hand it back at the end of the term.
Our lease cars are brand new, so you will receive the full warranty, road tax for the term and breakdown recovery.
Delivery is included to anywhere in the UK mainland.
We shop the market place so don't have to. Using our panel of the ten of the best leasing companies.
Cons
Being a lease, you won't own the car; once the lease term is up, you'll have to return the car.
It pays to be accurate with your mileage allowance. There are mileage charges should you go over your contracted miles.
Because our car lease special offers are constantly changing, you may miss out on the best offer for you if you wait too long.
There can be a termination fee should you want to exit your contract early.
If the price of road tax increases, you will have to pay the difference.
If you return the vehicle damaged, you will have to pay for the repairs.
Our leasing expertise at your disposal

Chester's AQMA Driving zones
There are currently three Air Quality Management Areas in the borough where nitrogen dioxide exceedances have been detected – in Chester city centre, in the Whitby Road/Station Road area of Ellesmere Port and in a small area in Frodsham. There is currently no charges in or restrictions in place; however, car idling is discouraged by the council.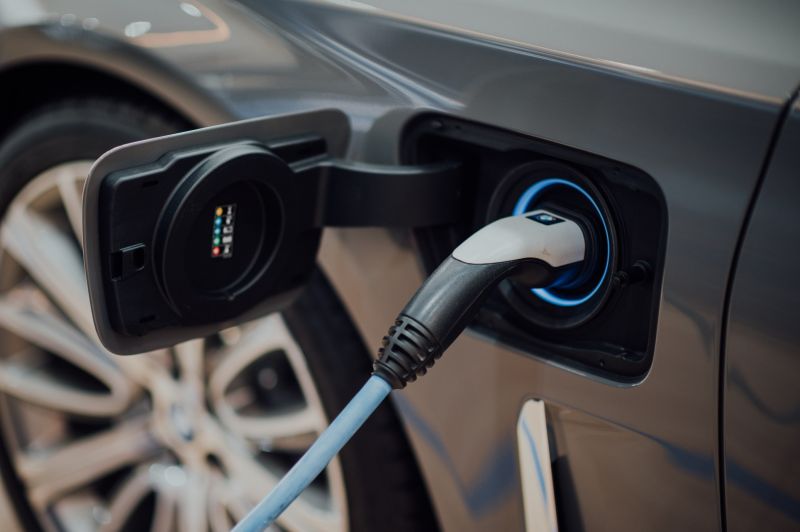 EV Chargers in Chester
ECV charging is not brilliant in Chester; most car parks, as do higher-grade hotels, have 1 or 2 fast chargers, as do the higher-grade hotels. If you are visiting Chester Zoo, this has 26 Charge Points by Pod Point, most are 7kWh chargers, so if you need something more substantial, like a DC rapid charger, you might want to head out of town - check out ZAPMAP to get you topped up in no time.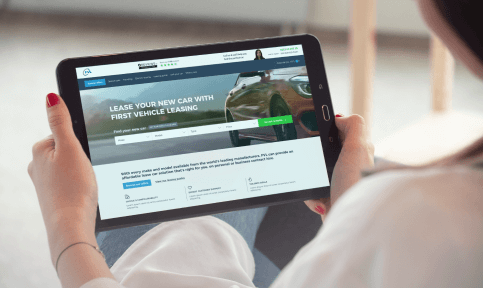 Transport links in Chester
The city centre of Chester is relatively compact and easy to navigate around. The train station is about a 2 min walk to Chester Cathedral and the city centre. Chester railway station is located in Newtown, Chester, England. Services are operated by Avanti West Coast, Mersey Rail, Northern, and Transport for Wales. From 1875 to 1969, the station was known as Chester General to distinguish it from Chester Northgate.
Destinations and links:
Crewe (23mins)
Glasgow to Edinburgh.
Manchester to Birmingham.
Bristol to Cardiff.
Newcastle to Edinburgh.
Leicester to Birmingham.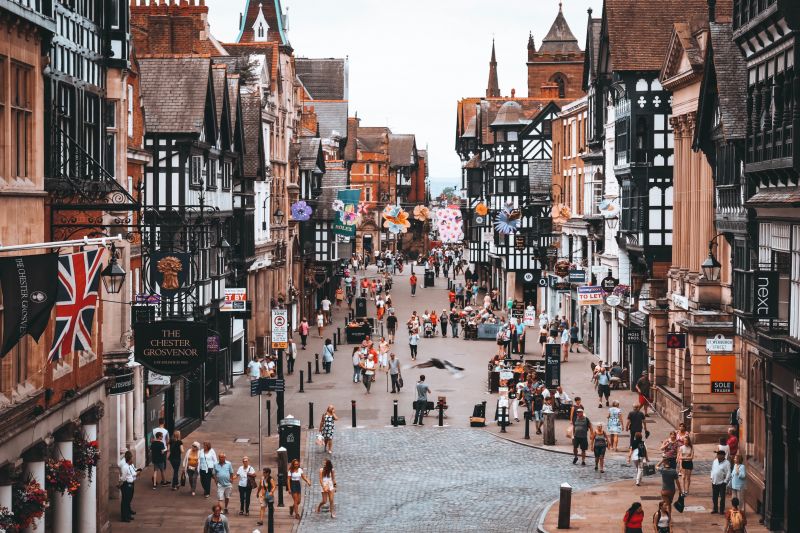 Parking around chester
The best tip for new and regular visitors is to use the Chester Park and Ride, Chester has two Park & Ride services, one from Wrexham Road (A483) and the other from Upton (A41).
These services provide a convenient way to park outside the city and travel into the centre.
Buses typically run every 10 or 12 minutes on Mondays to Saturdays and every 15 minutes on Sundays and bank holidays; note; there are no EV chargers at the car park.
If you wish to park in the centre there are plenty of car parks off the main ring road, The convenient and expensive Pepper Street Car park, also Brook Street and the Little Roodee Car Park an overspill for the Chester Races.
Helpful Car Leasing Insights
Below you can find answers to our most commonly asked questions about car leasing in Chester. If you can't find the answer you're looking for? Get in touch.
First Vehicle Leasing has leased vehicles to Chester for twenty-five years. Being wholly owned by the Ogilvie Group brings FVL the buying power to secure the best deals from your favourite car manufacturers. We shop the market for the best possible leasing package from our panel of nine hand-picked leasing companies to bring you the best deal. Our leasing consultants are on hand to take you through the process from start to finish and will happily answer any questions.

Established in 1998, we're industry experts with a wealth of experience. As an FVL customer, you benefit from the strength of our partnerships with leading finance companies to bring you low prices and flexible leasing options. This means we can tailor deals to suit your needs. Our deals start from under £200, so you'll find a vehicle for even the tightest budget.

At First Vehicle Leasing, our aim is to provide the best car leasing solutions and unbeatable service for our customers across the UK. To bring you the best deals we use a rating system. Our proprietary ranking system has been developed over 25 years and takes into account features of each model compared to its rivals. The primary categories used are length of lease, mileage limits along with a car's performance, practicality and tech features. We go direct to negotiate highly competitive deals on all our vehicles, so we can offer the very best deals.

Car leasing is simply a longer hire of a new car using a credit contract for a set period, usually between 2 and 4 years. They offer low fixed monthly rental payments until the end of the contract, and then you hand the car back.

With a standard car lease deal you will find included:

Full vehicle manufacturers warranty.
Road Tax for the length of the lease.
Free UK mainland delivery, right to your door.

With a standard lease, you are responsible for insurance, charging and (or) fuel costs, damage, servicing, and maintenance.

If you wish to include servicing, premium branded tyre replacements, and maintenance, you can opt-in for what is called a Lender Maintained Lease.

Your lender-maintained contract hire includes all of the above with a few extra additions.

Those include:

Servicing
Maintenance (even things like wipers, bulbs, brakes, exhaust)
MOT for leases over three years
Breakdown recovery
Premium branded tyre replacements (and often puncture repairs too)

When you lease a car with FVL, you benefit from a range of special deals and offers. You'll also get one-to-one expert advice on which car to choose, how the process works, and how to get the most out of your vehicle. We have access to every new make and model of car available in the UK, including the latest electric cars.