Cost increase of Public EV Charging Petrol and diesel prices drop Long Journey costs at parity
VAT anomaly affects 2-3 owners EV sales are on the increase

The Cost of Public EV Charging
The cost of using rapid public EV chargers, which electric car drivers depend on when taking longer journeys, has risen by 50% since May 2022.[1]
According to the RAC, the average cost is 70.32p per kWh to rapidly charge on a pay-as-you-go basis, up from 44.55p in May 2022.
Increased wholesale electricity costs drive the rise, meaning drivers now pay £36 to charge a typical family-sized electric car with a 64KW battery to its 80% limit, enough to cover around 188 miles. This is now more than twice the cost of charging the same car at home, with an 80% charge coming in at just £17.87 despite the high domestic energy prices.

Additional information from the RAC states drivers using rapid chargers now pay 20p per mile for their electricity, only a penny less than those using less common ultra-rapid chargers, which pay 21p per mile.
These costs are higher than the equivalent pence per mile rate for a petrol car that achieves an economy of 40 miles to the gallon (17p per mile) and is on a par with a diesel car achieving the same economy(20p per mile)
Petrol below £1.50 a litre for the first time since Russia invaded Ukraine
Prices of petrol have fallen below £1.50 [2] for the first time since Russia invaded Ukraine, according to the AA. Pump prices were at a record of £191.53 a litre in early July 2022, but by Jan 2023, they had d dropped to £149.74 p; however, diesel prices remain higher than they were this time last year at £172.21p per litre.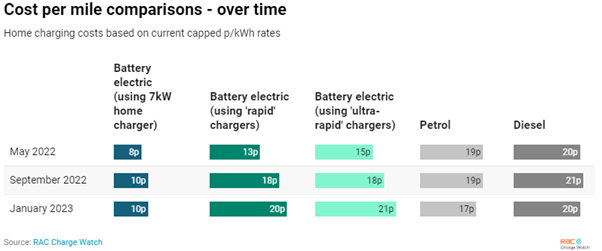 Electric cars Longer Journeys now cost more than petrol!
According to the new RAC data, topping up an electric car for long journeys now is more expensive than filling a car with petrol.[3]
Charging an electric car at home is still cheaper than buying at the fuel pumps; however, on long journeys, electric car drivers have to plan to use rapid chargers at critical locations along the journey.
Another reason behind the increased cost and the sky-high energy prices is that VAT is charged at 20% on electric supply via public charging networks, compared to the 5% of domestic energy use.
Unfair Taxes? for EV Electric Cars Charging
According to the Fair Charge campaign, fronted by automotive journalist Quentin Wilson,[4] EV motorists are being penalised into paying four times the VAT rates for electricity than domestic users.
UK new car sales hit a 30-year low, but EV demand soars.
Electric vehicle registrations continued to grow in the second half of 2022, accounting for a fifth of all UK registrations. PHEV (plug-in hybrid) and BEV (battery electric vehicle) accounted for 27.7% of new car registrations in November 2022[5], according to the SMMT.
The SMMT also called for urgent government action to deliver a charging infrastructure and support EV uptake to deliver UK's ambitious net-zero targets.
With only 7 years before the ban on the sale of new petrol and diesel cars and vans and EV sales increasing, access to affordable public charge points is a priority as only one-in-three households can charge their vehicle at home.
With the excess VAT on public charging and ever-increasing wholesale electricity prices plus the looming end of the exemption from excise duty, it will be a difficult sell to customers who are reluctant to move over to an electric vehicle in the first place.
Erin Baker, from Autotrader, summed the mood up nicely, stating affordability will be the biggest problem to overcome during the cost of living crises saying, "EVs need to be easier to afford, charge and buy to continue the positive sales trajectory and ultimately to meet the government's target"[6]
Fast EV Chargers FAQs
What is the Fastest Available EV Charger?
The fastest Public EV chargers in the UK are the DC CCS-350kW chargers,(Hyper Fast) a 60kw typically a compatible vehicle will charge 10-80% in 20 Minutes.
Where are the fastest EV chargers in the UK?
The faster chargers including 350/150kW chargers are mainly found alongside motorways, main trunk roads and popular destinations. The main providers are Ionity, GridServe and BP Pulse
Do Supermarkets have EV Chargers?
Most major Supermarkets in the UK have some form of EV charger. Typically 7kW and 22kW charging points whilst not particularly fast they are handy if parking up for the weekly shop. Some destinations offer this service FOC as a customer or loyalty Card customer.
How Many 150kW Chargers in the UK?
Classed as Ultra Rapid Chargers (plus 100kW) as of the end of March 2023 there 2,703 URC in the UK up by 404 since 2022[1]
Where are EV Chargers located UK?
Of the 40,000 plus chargers in the UK 32% of them (5,155) are in the Greater London area followed by the South East 13% and then Scotland 10%.[1]The majority of chargers are located at retail parks, and other key destinations.
What type of Charger is best for the UK?
The Direct Current (DC) Combined Charging System (CCS) Rapid Charge or Phase 2 cable adaptable from 50 kW to 350kW is the most popular when using UK public chargers.