For those who really want to go places, particularly down rutted country lanes and off-road, the new Volvo V60 Cross Country might be the vehicle for you.
The mid-size estate is the rugged sibling to the excellent V60 and helps meet a growing demand from buyers for those vehicles that are happy going off tarmac.
To help, the ground clearance for the Cross Country is 75 mm higher than the regular model which has meant a new chassis and suspension being developed to help boost the vehicle's off-road capabilities.
It also helps that all-wheel drive is fitted as standard, along with other kit including electronic stability control, hill descent control and corner traction control.
There's even a special off-road driving mode to help drivers deal with a range of surfaces such as mud and snow.
Volvo V60 Cross Country utilises the same platform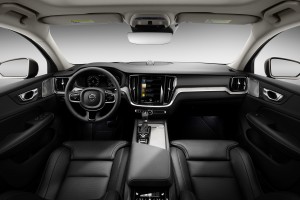 The Volvo V60 Cross Country utilises the same platform for the 60 series and 90 series Volvo's along with similar infotainment system setup and safety technology.
The main aim is to deliver a car that's comfortable to drive around town and versatile when taken off road; there's a higher seating position to really enjoy what are dynamic, all-wheel drive capabilities in this excellent car.
Along with the firm's award-winning City Safety with Autobrake, which is fitted as standard equipment, this helps assist the driver to avoid a potential collision and is currently the only system that recognises pedestrians, large animals and cyclists and will take action when it detects an obstruction ahead.
The Volvo V60 Cross Country comes with Pilot Assist system
The Volvo V60 Cross Country also comes with the Pilot Assist system support which will operate at speeds of up to 80 mph on well-marked roads.
The Pilot Assist helps to support the driver with acceleration, steering and braking and is a useful semi-autonomous system to enjoy.
Other safety features include oncoming lane mitigation, run-off road mitigation and there's the option of cross traffic alert to check for traffic when reversing.
Get this car on personal contract hire
The firm's infotainment system works with Apple CarPlay and Android Auto with an intuitive tablet style touchscreen that also helps control various car functions including satnav, in-car apps and other connected services.
For those interested in the Volvo V60 Cross Country then it will have the firm's D4 AWD diesel unit from launch with plug-in and mild hybrid variants available afterwards. The full spec and prices will be available soon.
Introducing the new Volvo V60 Cross Country