Here is the impressive Alfa Romeo Stelvio Veloce Ti that will top the popular car leasing range.
It is the high-performance offering for the SUV and is being introduced for the 2021 line-up.
The Ti stands for 'Turismo Internazionale' which Alfa says is applied to those cars that have a 'typical Italian elegance'.
The 'Veloce' indicates, they say, the speed of their best-performing cars.
Stylish and sporty contract hire Stelvio
The result is a stylish and sporty contract hire Stelvio that is worth a closer look as a potential leasing deal.
The exterior of the car has also been tweaked with a body-coloured kit, a new rear bumper and there's a new diffuser.
Alfa is also offering 21-inch five-hole alloys that have a dark finish as an option.
Great looking car leasing opportunity
The interior of the great looking car leasing opportunity has also been revamped and resembles the firm's Quadrifoglio versions.
That means contract hire drivers get to enjoy aluminium gearshift paddles, black headlining and sporty seats in Alcantara and leather.
The cabin also has carbon fibre accents with dark window surrounds and Alfa has added tinted windows.
The Stelvio Veloce Ti as a car lease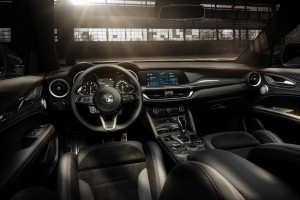 The power for the Stelvio Veloce Ti as a car lease is a 2.0-litre turbocharged petrol engine producing 280 bhp.
The power is delivered using an eight-speed automatic gearbox and the firm's all-wheel drive system, known as Q4.
Alfa Romeo says that the engine's four cylinders are built of aluminium and there's a carbon fibre driveshaft.
Features for the Stelvio Veloce Ti
Other features for the Stelvio Veloce Ti include 'My Wifi' so the Internet connection can be shared between several devices, and 'My Theft Assistance' which will alert the owner should someone try to steal their car.
Alfa is also adding its 'My Assistant' feature which will call the emergency services should the car detect a collision.
Alfa says that along with the Stelvio Veloce Ti, it has upgraded all of the engines in the range to be Euro 6d regulations.