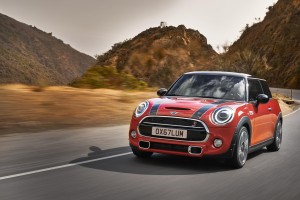 The ever popular Mini Hatch has been revamped for 2018 with a new design for the headlights and styling tweaks – including a new logo – for the UK market.
Mini says it is also offering a 'first in its class' which is for optional adaptive headlights with matrix high beam.
There's also a 6.5-inch colour touchscreen as well as Bluetooth and USB connectivity. A new multi-fiction multifunction steering wheel has also been fitted.
Options for the Mini Hatch
Options for the Mini Hatch have been boosted with the introduction of a facility to design individual 3D parts.
Essentially, customers can design and then produce products according to their own specifications. These include decorative strips for the interior, LED door projectors and the door sill finish.
The platform will appear later this year for customers to design and select their customised products and they can also choose the surface structure, patterns, colour and icons.
Engines for the Mini Hatch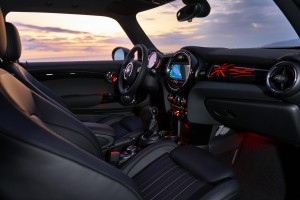 The engines for the Mini Hatch have also been revised with the aim of boosting driving fun; the basic engine range includes new technology and the popular three cylinder engine in the Mini One has been boosted to 1.5 litres.
Also, a six speed manual gearbox is offered as standard on all new Minis but there's also the option for those ordering the Hatch and Convertible for a seven speed Steptronic automatic transmission.
The new automatic gearbox enables the Mini to coast to save fuel while in 'green' mode and will utilise satnav and the car's camera system to see when stop-start can be controlled in situations where the engine should not be switched off.
This also extends to when the Mini stops briefly, for example when entering a roundabout, so the driver will not have to wait for the engine to restart.
Get this car on personal contract hire
The new Mini Hatch, in the three door guise, offers excellent performance from five engine choices ranging from the entry level model delivering a top speed of 121 mph and fuel economy of 58 mpg.
At the top end, the Mini John Cooper Works Convertible will deliver a top speed of 150 mph, economy of 43 mpg and a 0 to 62 mph sprint time of 6.6 seconds.
Other highlights for the revamped Hatch include a new piano black exterior, new alloy wheel designs and body finishes. There's also an extended range for those wanting leather trim and a new interior for backlit surfaces.
The current incarnation of the Mini Hatch has been around for several years now and it's still a popular choice for many with the 2018 model year offering a great package of equipment, performance and comfort levels.