For petrolheads everywhere, the new Ford Focus RS Edition will deliver lots more fun with improved traction.
That's because the firm has introduced a new limited slip differential for the front axle.
The result is improved road surface traction with power distributed to the wheel needing it most to prevent wheelspin and improve stability and acceleration.
The new system blends seamlessly with Ford's performance all-wheel drive which evaluates the front-to-rear torque distribution to suit the driving conditions.
Exclusive styling pack for the Ford Focus RS Edition
There's also a new exclusive styling pack for the Ford Focus RS Edition which sees a new carbon fibre trim being installed and two-tone Recaro shell seats being added.
There are also black mirrors and a black roof for the car's Nitrous Blue exterior.
The Focus RS already has class leading driving dynamics and excellent levels of power from the 2.3 litre EcoBoost engine producing 350 PS.
Ford Focus RS Edition controls the torque effectively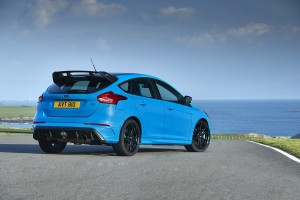 As mentioned previously, the Ford Focus RS Edition controls the torque effectively to deliver a thrilling ride; the car's dynamic torque vectoring is electronically controlled and can switch from one side to the other in a fraction of a second.
There's also torque vectoring control which will apply the brakes to limit wheelspin for the wheels at the front axle.
For those who want to put the car through its paces, the RS Edition also has a drift mode to enable controlled oversteer and there is also launch control for a quick start from standing still.
Get this car on personal contract hire
Indeed, the Focus RS Edition will sprint from 0 to 62 mph in 4.7 seconds.
There's also a decent amount of equipment including rear parking sensors, privacy glass, Brembo calibres, 19 inch alloy wheels and cruise control.
The Ford Focus RS Edition is available to order now from £35,795.
Enjoy the Focus RS sprint time – in real time: