Two iconic products will be forming an alliance later this year: the iPhone from Apple and the Beetle from Volkswagen.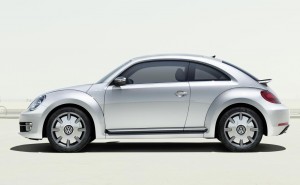 The VW iBeetle
The result will be a smartphone interface with the Beetle and Beetle Cabriolet's vehicle functions via a specially developed app, called the Volkswagen Car Net The Beetle, and a docking station.
This makes the Beetle the first model in the Volkswagen Group in which the iPhone will become an integrated component.
It's also a trend, flagged up with the recent Alfa Mito Live car, for manufacturers to increasingly make their vehicles easy to communicate with and have interfaces for owners to run their smartphones through.
In the case of the VW Beetle, there are two routes to acquiring the interface: first as an optional feature, and second as a standard feature on the new iBeetle and iBeetle Cabriolet.
The German carmaker will be launching these special models on the market in parallel with the iPhone 5 integration at the beginning of 2014.
Located centrally on the dashboard of the VW Beetle is the newly designed docking station in which the iPhone is integrated by simply snapping it in – similar to a mobile navigation system.
Once in, essentially, all iPhone functions can be used in the VW Beetle; the iPhone can be used to navigate, telephone via a hands-free unit, listen to music from the media library via the audio system's amplifier and loudspeakers, and much more.
When the app is launched, it can either connect the iPhone to the VW Beetle docked or undocked.  As soon as the iPhone connects to the VW Beetle's data network via the app and the docking station, a menu with a range of functions is available.
Among them is 'Spotify' which will enable the streaming of music or online radio stations.
There's even a way to take a photo from the car's interior and then have posted to social networks automatically.
The only concern, for me at least, is that these create more distractions within the cabin when the driver should be focussed on the road ahead of them.
Anyway, orders for the VW iBeetle will be taken from the Autumn for delivery next year – though the leasing options for the VW Beetle are bound to be a cheaper way of owning one.