This is the head-turning contract hire Lotus Emira – the most accomplished car the firm says it has ever made.
It's a mid-engine sports car that underpins Lotus's ongoing transformation as an iconic British sports carmaker.
The exotic supercar will create a stir in the sports car segment with its striking design.
There are fluid surfaces, and the feature lines are crisp – there are obvious influences from the Lotus Evija hypercar.
The new sports car has been developed on the firm's new 'sports car architecture'.
Lotus Emira car lease range
From launch, there will be two petrol engines available for the Lotus Emira car lease range, including a new 2.0-litre turbocharged unit from AMG, its new technical partner.
That's a change from the engines being supplied by Toyota with the characterful, and much loved 3.5-litre supercharged V6 unit still being available.
The firm says that to maximise the car's global appeal, it will be available with manual and automatic, as well as dual-clutch transmissions.
The power output from the engines ranges from 300 HP to 400 HP, and drivers can expect a 0 to 62 mph sprint time of just under 4.5 seconds.
The top speed of the Emira is 180 mph.
New Lotus sports car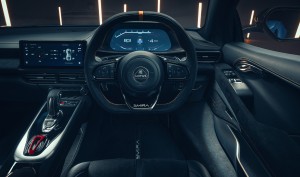 The new Lotus sports car builds on the legacy from the likes of the Exige, Elise and the Evora, and has been described as a 'game-changer' for the firm.
There's a new, lightweight bonded aluminium chassis and deliveries of the new car will begin early next year.
The version with the new turbocharged 2.0-litre AMG engine will make its debut next summer.
The new car will be built at the famous production facility in Hethel, Norfolk.
Lotus Emira lease
Prices start at just under £60,000 for the head-turning Lotus Emira lease.
It helps that there is a digital visualiser available on the Lotus website to help showcase the car's design so potential buyers and those wanting to lease the Lotus, can see what it will look like.
Lotus says their vehicle is an 'everyday sports car' with standard equipment including electric folding door mirrors, rain sensing wipers, cruise control and rear parking sensors – front sensors are an option.
The Emira has a launch control function to enjoy the powerful engines, along with an anti-collision system, adaptive cruise control, road sign information and rear cross traffic alert.
There's no doubt that the new contract hire Lotus Emira is a striking creation and will be an impressive sports car to lease.