As the brand's first all-electric vehicle, the Cupra Born car lease range impresses.
It's the next step on the carmaker's road to electrification and with instant performance and an emotional design, they have high hopes for the new vehicle.
It uses the most advanced electric powertrain technology and for those wanting performance, then there's a lot to like.
The Born also adds an interesting alternative to the plug-in hybrid and petrol-powered Cupra variants in the Leon, the Leon estate, the Ateca and the Formentor.
Contract hire Cupra Born
The contract hire Cupra Born also, the firm says, offers customers a car that is CO2 neutral.
They say they are using renewable energy in the car's supply chain and the emissions that remain are being offset by various project and environmental investments.
The Born sees a choice of batteries including a 45kWh battery offering a range of 211 miles.
It produces 150 PS, while a 58kWh battery produces 204 PS and a range of 261 miles.
This battery also has an 'e-Boost' feature and there's a 77kWh battery returning 335 miles.
Battery can be recharged in seven minutes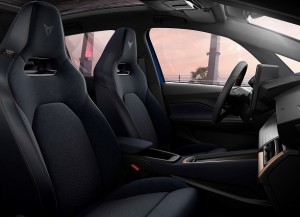 Another aspect that drivers will appreciate is that the battery can be recharged in seven minutes to deliver 62 miles of extra range.
The fast charging is only available with the 77kWh battery which should go some way in alleviating range anxiety.
The interior also impresses with a quality and premium feel, and bucket seats are fitted as standard.
The seats are made from recycled marine plastics and the steering wheel features copper accents to show that the Born really is part of the Cupra family.
High-def 12-inch infotainment screen
Drivers also get a high-def 12-inch infotainment screen and there's a new smartphone application to access various features.
The model is based on a new platform which helps to boost the interior space and delivers a high centre console.
The boot size is 385 litres and there's a digital eco-system for connectivity and infotainment solutions.
The Cupra Born also features a raft of safety and convenience systems including predictive adaptive cruise control, traffic sign recognition, travel assist and emergency assistance.
Some models also feature a top view camera for a 360° view of the car to help with manoeuvring, and there's Intelligent Park Assist too.
There's a lot to like about the new electric Cupra Born car leasing range and the contract hire deals really should be checked out.