The stylish and impressive Jaguar E-Pace car lease range has had its technology improved and a new trim added.
The sophisticated R-Dynamic Black Edition boosts the SUV's visual appeal and dynamic design with a range of bespoke exterior elements.
The new Black Edition adds gloss black detailing to the lower grille and front bumper, as well as the door mirror caps.
There are other stylish additions including distinctive 19-inch alloy wheels with red brake callipers, a panoramic roof and privacy glass.
Contract hire Jaguar E-Pace Black Edition
The new contract hire Jaguar E-Pace Black Edition also features a curved 11.4-inch HD display that is integrated into the instrument panel.
This is home to the infotainment system and the driver only needs two taps to carry out 90% of the most common tasks needed from the simplified menu structure.
Engines for the E-Pace family include the latest 2.0-litre Ingenium diesel units, plus a powerful P200 petrol engine with these new offerings being mated to a nine-speed automatic gearbox.
It helps for handling that all-wheel drive is fitted as standard with a system that will distribute automatically the torque necessary between the rear and front wheels to boost traction.
The stylish E-Pace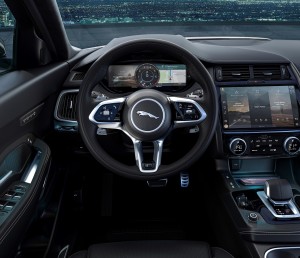 The specification for the stylish E-Pace has been enhanced with more technology, as well as connectivity.
Among them is a new cabin air purification system to boost quality.
Plus, drivers get the firm's configurable dynamics set up so the driving features can be adjusted such as the gearbox and throttle responses, as well as the suspension and steering settings.
The latest version of the Jaguar E-Pace also comes with the latest electric powertrain technology.
Plug-in version of the E-Pace
The plug-in version of the E-Pace uses a three-cylinder P300e 1.5-litre engine.
This offering will see fuel efficiency of 143mpg and emissions of just 44g/km to make it an attractive company car opportunity for leasing purposes.
The hybrid has a system to choose whether the electric motor or petrol engine will be the most efficient and responsive way of driving and switching between the two when necessary.
There's also zero-emissions driving for 34 miles – which should cover most driver's commutes.
The Jaguar E-Pace car lease range is an impressive offering with the new Black Edition trim and technology making it an attractive SUV in its competitive segment.