If you like the sound of a car that returns 235 mpg, then the new frugal Volkswagen Golf eHybrid car lease model is worth checking out.
Prices start at £32,995 and this plug-in hybrid has emissions of just 21g/km – that's a great figure for anyone thinking of a new battery-powered company car.
The Golf eHybrid also has an all-electric range of 44 miles and looks set to be a popular choice in PHEV cars.
It sits below the Golf GTE producing 245 PS, while the new eHybrid delivers 204 PS.
Contract hire Volkswagen Golf eHybrid
The contract hire Volkswagen Golf eHybrid will be available in the firm's 'Style' trim, a luxurious offering.
It's not only a well-engineered and well-equipped model, but it's a good performer too.
Drivers get a 1.4-litre TSI petrol unit, a 13kWh lithium-ion battery and an electric motor.
There's torque of 350Nm and the power is delivered using a six-speed automatic DSG transmission.
The 0 to 62 mph sprint time is just over seven seconds, and the hybrid will then go onto a top speed of 137 mph.
Stylish Golf eHybrid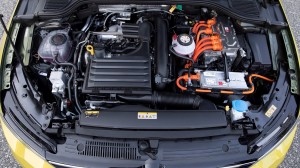 The stylish Golf eHybrid can also be driven at speeds of 80 mph in all-electric mode and the driver can set the battery system to retain battery performance for longer journeys.
The equipment list for the new Golf eHybrid includes the firm's Digital Cockpit Pro for the digital instruments, and their Discover Media satnav system.
It brings a mobile phone interface, a DAB radio as well as Internet streaming.
Drivers also get sports comfort seats, a multifunction leather steering wheel, dynamic roadside display and adaptive cruise control.
The safety kit is also bolstered with autonomous emergency braking and there's automatic air-conditioning.
Golf eHybrid lease model
The Golf eHybrid lease model also includes the firm's Car2X system which is a local road warning offering that communicates with other Volkswagen cars.
There's also 16-inch alloy wheels, keyless entry and start as well as LED headlights.
The battery will take around five hours to charge using a three-pin plug, but for drivers with a 3.6kW wall box, this recharging time falls to 40 minutes.
There are two driving modes, one of which delivers the all-electric power, and the hybrid mode will manage automatically when to use battery power.
The excellent Volkswagen Golf eHybrid car lease model is entering a competitive segment, but for those who want a stylish and comfortable family car to lease, then the eHybrid is highly recommended.