It's the firm's top-selling model in the UK and now the Citroen C3 has been refreshed.
The new models will appear from October and help boost its 'desirability and appeal' among customers.
Since launch in January 2017, the C3 has been a popular choice with more than 42,000 units being sold.
Now, the firm is focusing on the most popular trims, usually in the upper levels, to help shift more sales.
Features for the Citroen C3
This means there will be more up-market features for the Citroen C3 and the entry level model, the Touch, is being discontinued.
The special edition 'Feel Nav Edition' will also stop production.
Now the C3 Feel becomes the entry level with alloy wheels, automatic air conditioning and lane departure warning – it has a better spec than many rivals.
There's also a 7-inch colour touchscreen, Mirrorscreen for Apple CarPlay and Android Auto and a choice of optional roof colours.
Other models include the 'Origins Collector's Edition' with a black two-tone roof, a different colour scheme and Air Bump panels.
The model also features Citroen's emergency and assistance calling system, intelligent beam headlights, active safety brake and rear parking sensors. Satnav is also standard.
Citroen C3's sales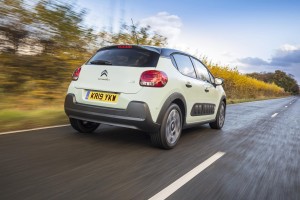 The carmaker says that since its launch, around two in three of the Citroen C3's sales have been for the top two trim levels.
There will be now a new Flare Plus trim that offers a wider range of engine choices plus gearboxes and some models will have an integrated camera system to monitor the car's safety.
Other models also have a colour reversing camera, leather steering wheel and tinted rear windows.
Among the technical changes to the Citroen C3 line-up include efficiency improvements, including a new alternator, underbody panels to help reduce the car's drag and an air inlet shutter.
Along with low rolling resistance tyres, drivers will find its fuel economy improves.
Get this car on personal contract hire
There's a lot to like about the Citroen C3, it's a comfortable car and rewarding to drive around town, and the new trim levels and equipment make it an appealing prospect in the supermini segment.