With growing numbers of eco-friendly cars reaching the showrooms, and some manufacturers announcing their first-ever models, one of the best is being revamped and that's the Hyundai Ioniq.
Available as a hybrid or a plug-in, the carmaker has decided to boost the active safety and driving assistance systems, known as SmartSense, and is offering adjustable regenerative braking that will use paddle shifters.
Also, the car's infotainment system will be, Hyundai says, 'state of the art'.
Hyundai Ioniq has shifted 60,000 units
The Hyundai Ioniq has shifted 60,000 units since launching in 2016 and is one of the firm's most important products.
It was also the first model to be offered with three different electrified powertrains and the Ioniq is still geared towards offering choice to those who are looking for an eco-friendly vehicle. For many reasons, the Ioniq is hard to beat especially since it has a long warranty to help attract buyers.
Along with the new features, the vehicle has a competitive safety package including lane keep assist, autonomous emergency braking and driver attention alert.
There's an excellent 10.25-inch screen offering a wide range of information and voice recognition functions and it works well with the optional sat nav system.
Hyundai Ioniq revamp sees the addition of telematic services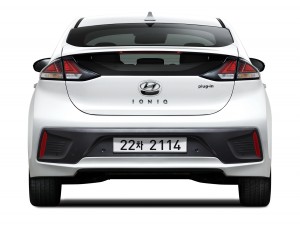 The Hyundai Ioniq revamp sees the addition of telematic services – called Bluelink – and an emergency call function so the car will call the emergency services in an accident.
The car also has a 'green zone driver mode' that will switch the Ioniq's engine to electric power if that is what is most suitable without any interaction of the driver.
The vehicle also uses one pedal driving capabilities and even when the car is switched off, the driver can use various on-board functions using the screen. There's also an Eco+ mode that will help extend the energy that remains if there is an unforeseeable emergency situation.
Get this car on personal contract hire
It's the extra levels of connectivity that really help to underpin the revamp, as well as the restyling of the exterior and interior.
Along with the firm's Live services which are built-in as a standard feature, drivers can also access Apple CarPlay and Android Auto with a new sleek, glossy finish to the dashboard.
The new plug-in and hybrid versions of the Hyundai Ioniq will be available in the UK from the summer.