There is more space and new technology to help make the all-new Audi A6 Avant an impressive offering.
Along with the spacious interior there's also a new striking design to help it stand out in a competitive segment.
Along with a luggage capacity of 1,680 litres there is also a mild hybrid and new state-of-the-art driver assistance choices.
Despite being a long car, it's 4.9metres in length, there's no compromise for handling and comfort with just the right balance for an enjoyable drive.
Engines for the Audi A6 Avant
The engines for the Audi A6 Avant comprise of four and six cylinder TFSI and TDI engines which will meet those needs.
All of these are supported by the firm's mild hybrid technology, which they term as MHEV, which are based around a belt driven alternator which will recover energy when braking for the lithium-ion battery. To help economy, the A6 will coast at speeds of between 34 mph and 99 mph.
The power is delivered with the firm's eight-speed Tiptronic automatic transmission or a seven-speed S-tronic twin clutch gearbox. A standard feature is the firm's permanent all-wheel drive.
The A6 also features a sport differential that will distribute power when cornering at speed between the rear wheels to ensure stability and control.
New Audi A6 Avant features a minimalist interior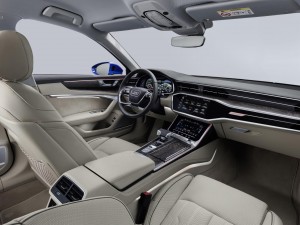 The new Audi A6 Avant features a minimalist interior with soft leather and elegant colour schemes to choose from.
The on-board technology does not detract from the levels of luxury and craftmanship with two touchscreens; the 8.8-inch standard touchscreen is home to the navigation and infotainment systems with a lower 6-inch display controlling climate control and convenience functions.
There's also the option of Audi's virtual cockpit which utilises a 12.3 inch high res screen and a full colour head of display.
Get this car on personal contract hire
Along with the excellent infotainment system, there's also a Wi-Fi hotspot and satnav.
The new Avant can also be unlocked using an Android smartphone and there's the firm's 'phone box' telephony system and a top end sound system.
The impressive new Audi A6 Avant will be available for ordering this summer in the UK.