The growing popularity of electric cars has led to the all-new Hyundai Kona Electric making its debut and it's a car the firm says offers 'no compromise'.
It's also the first all-electric subcompact SUV that is available in Europe.
The vehicle combines Hyundai's SUV style with a zero emission electric powertrain.
Hyundai Kona Electric is available with two different powertrains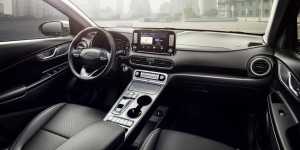 The Hyundai Kona Electric is available with two different powertrains with a range of up to 300 miles.
As the first fully electric subcompact SUV, the Kona Electric features a unique exterior design.
There's a closed grille and a dedicated centre console to help the driver and a shift-by-wire-gear control which offers an intuitive operation of the car's electric powertrain.
A 7-inch touchscreen features all of the relevant vehicle information with a head-up display so this is projected directly into the driver's line of sight.
There's also plenty of room on board and it's a versatile vehicle that is suitable for everyday use.
Get this car on personal contract hire
The Kona Electric has a wide range of active safety features including autonomous emergency braking, pedestrian detection and lane keeping assist. There's also a driver attention warning system and speed limit information.
However, most people will be looking at the Kona Electric for its capabilities and it will reach from 0 to 62 mph in 7.6 seconds.
The firm says that the basic model will deliver 186 miles of range on a single charge while offering great fun behind the wheel.
The all-new Hyundai Kona Electric is the latest offering from a carmaker that has been at the forefront of delivering impressive electric vehicles, starting with the ix35 and the more recent Ioniq.