The new generation of the Hyundai i30 is being described by the carmaker as 'a car for everyone' by delivering to a range of different needs.
Indeed, it's been described as elegant, practical and sporty and it's been designed and made in Europe to meet customers' high expectations.
The new Hyundai i30
The new Hyundai i30 also has more active safety features than any other Hyundai vehicle that has gone before. It also has the firm's new 1.4litre T-GDi engine that produces 140 bhp.
The all-new Hyundai i30 also comes with the latest infotainment and connectivity features that today's demanding customers are expecting from new cars.
However, one reason why the firm has put so much effort into a well-designed and well-made car is a hope that it shifts people's perception of the carmaker to one that is a quality, European car firm that delivers quality vehicles.
The i30 offers a comfortable ride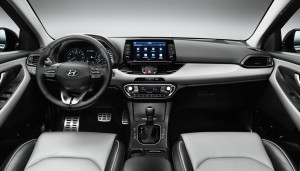 In addition, the i30 offers a comfortable ride and is cheap to run as well – it helps that it comes with a five-year unlimited mileage warranty to bring peace of mind and this undoubtedly helps position itself as a reliable carmaker.
The new styling is aimed at broadening its appeal in a competitive segment and it has a useful boot capacity of 395litres which expands to 1,300litres when the rear seats are folded flat.
Initially, the Hyundai i30 will come with a choice of three diesel and three petrol engines with the 1.4litre entry-level petrol engine producing 99 bhp though there is a punchy 1.0litre three-cylinder a petrol engine with a turbocharger that produces 118 bhp.
Get this car on personal contract hire
The range topper from the initial models being launched is the 1.4 L turbocharged engine which comes with the firm's new optional seven speed dual clutch automatic gearbox and will sprint from 0 to 62 mph in 8.5 seconds with the manual gearbox being slightly slower.
The new Hyundai i30 is available from early next year and will make its first official appearance at the Paris motor show where it's expected to offer an interesting alternative to the market leading Ford Focus. Prices are expected to be around the £15,500 mark.