This is the new SsangYong Tivoli XLV which is, according to the carmaker, a new breed of vehicle, it's what they call the 'SUV-estate'.
Essentially, SsangYong says the new model is a cultural compact SUV which incorporate the style and abilities of a crossover vehicle with increased load carrying capacity.
Indeed, there's 720 litres of load space available on board which is, says SsangYong, ideal for families and dog owners, thanks to the extended body of the increasingly popular Tivoli.
New SsangYong Tivoli XLV has a range of engines
The new SsangYong Tivoli XLV has a range of engines including a new 1.6 litre diesel unit that your six compliant which is coupled to a six speed automatic transmission or six speed manual box. The car also comes with four or two wheel drive.
On board is a lot of equipment fitted as standard and safety kit too.
The safety equipment list include seven airbags, electronic stability programme, active rollover protection and hill start assist. There's also a tyre pressure monitoring system and emergency stop signal.
Since its launch last year, more than 100,000 SsangYong Tivoli's have been sold around the world with many owners enjoy the large boot and high comfort levels.
The SsangYong Tivoli XLV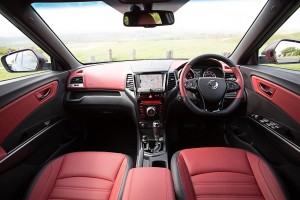 Essentially, the SsangYong Tivoli XLV has been designed to tackle head-on the likes of the Nissan Qashqai which dominates the segment but also make people think twice about buying the Skoda Yeti and Mini Clubman.
The carmaker says it's created a car that is versatile to meet a wide range of lifestyles and needs from those responsible I need two small families.
It helps that the new 1.6 litre diesel unit will return around 63 mpg with emissions of 117g/km and there's the option of intelligent four-wheel-drive as well.
Get this car on personal contract hire
While SsangYong is still something of an unknown brand within the UK they have improved their abilities and manufacturing quality is in recent years and the SsangYong Tivoli XLV is a excellent attempt at creating more market share with a car that will impress.
The Tivoli XLV is on sale now and costs from £18,250.