The Ford Mondeo ST-Line is among a slew of new sports-themed special editions from the Blue Oval which feature unique body kit, unique alloy wheels and sport suspension.
There's also sporty interior details, a perforated leather steering wheel and sports seats with those who like the look of the firm's ST hot hatchback's but don't want the performance levels being the target audience. Instead, they get better fuel efficiency while having a similar car with decent performance.
However, it's not all about boosting speed and performance, the Ford Mondeo ST-Line has new engine choices from the 2.0 litre TDCi diesel producing 150 bhp and 180 bhp and the new model comes with the firm's intelligent all-wheel drive system.
The engine should deliver economy of between 62 mpg and 66 mpg with emissions ranging from 112g/km and 117g/km.
The Ford Mondeo ST-Line
The Ford Mondeo ST-Line also features steering wheel-mounted paddle shifters for the models fitted with the six speed automatic PowerShift transmission.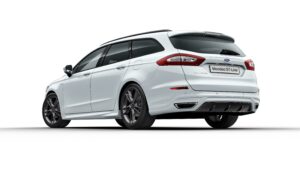 The all-wheel drive system will deliver torque to the wheels when needed to boost grip in slippery conditions and between the rear and front wheels in less than 20 milliseconds – that's around 20 times faster than it takes a person to blink.
Ford is enjoying a boom in the popularity of its performance cars, sales in Europe have risen by 50% compared with 2015 and they are looking to shift 40,000 such models this year.
In addition to the Mondeo ST-Line, buyers can also opt for the Focus ST-Line and the Fiesta ST-Line.
Get this car on personal contract hire
Ford says the new special editions have been inspired by its performance vehicles and come complete with sporty driving dynamics and bold styling to deliver great value.
Ford says its ST-Line is being aimed at those who like the look of the ST hot hatch models of the Fiesta and Focus but do not necessarily want the level of performance that the engines and chassis delivers.