The popular British-built Honda Civic is to get a new Sport variant to the line-up from May for just £18,000, the firm has announced.
The new Civic Sport will be the range's entry level model and have a 1.4 litre petrol engine under the bonnet. The engine will join the 1.6 litre diesel unit producing 120bhp and the 1.8 litre petrol engine producing 142bhp in the current Civic Sport range.
Honda says the new i-Vtech engine has been tuned to boost its environmental credentials, its emissions are 131g/km, and its dynamic performance with power of 100bhp and 127Nm of torque.
The new Honda Civic Sport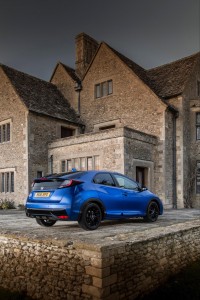 The new Honda Civic Sport will also have similar styling to the aggressive looking Civic Type R and demand is set be strong. Honda says its new car will have a more sporty styling than the usual family hatchback and this will include having a colour-coded rear spoiler as well as 17 inch alloy wheels.
Other styling crossovers from the Civic Type R include black roof lining for the Sport's cabin and also lower grille mesh. It will also have a decent standard equipment list including reversing camera, DAB radio and climate control.
The new car will cost from £18,360 OTR and is coupled to a manual gearbox.
Get this car on personal contract hire
Honda says it is revising its Civic offering to help meet growing customer demand which means potential owners will be see more attractive models and special editions being unveiled.
The Honda Civic Sport unveiling comes just a few months after the firm unveiled its concept version at the Geneva motor show of a new Civic that will be in showrooms next year with more practicality and new engines to make the car more popular with buyers.