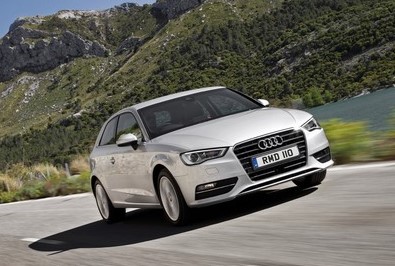 There is an impressive new Audi A3 on the block which will deliver, says the carmaker, 83mpg and CO2 emissions of just 89g/km.
It's been branded as the Audi A3 TDI ultra and designed to take on the new 116d from BMW.
Prices start at nearly £21,000 and is available to order now with deliveries scheduled for August.
Buyers will find that the Audi A3 TDI ultra has been fitted with an excellent 1.6 litre diesel unit which produces 109 bhp.
There's also a lowered sports suspension and Audi have fitted low rolling resistance tyres to help boost economy.
Improved performance for the Audi A3 TDI ultra
Performance is also improved with a souped-up six speed manual gearbox, there's no auto transmission available, and 16inch alloy wheels.
The new Audi A3 TDI ultra also has impressive performance, its top speed is 124mph and will reach from 0 to 62 mph in 10.5 seconds.
Audi have also announced that their all-wheel drive Quattro system will now be made available on more A3 models and this new A3 compact hatchback points the way for the range's 2016 model year line-up.
With advanced lightweight construction and optimised aerodynamics, it's around 80 kg lighter than the predecessor.
Get this car on personal contract hire
The Audi A3 TDI ultra comes in three or five door guises and will be particularly attractive for business users since its reduced emissions should see its vehicle excise duty being nil.
On board, Audi have improved the air conditioning and introduced a slim folding screen for the driver information system.
There's also a multifunction steering wheel as well as Bluetooth connectivity.
Some models also come with cruise control, rear parking sensors and a better and brighter screen for the infotainment system.
Options include Xenon or LED headlights, leather upholstery and a tech package to enable various Internet-based services to be used within the car.
The most expensive model in the new range is the Audi A3 Cabriolet with a 2.0litre TDI engine and quattro all-wheel drive in the 'S' line guise at £32,685.