Would it be a cliché to begin this with a contrived gag about the VW Beetle being popular with Beatles fans and now music lovers have a Fender version to buy?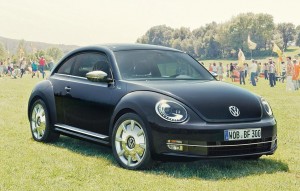 The new VW Beetle Fender
I think so, but VW have gone down that route which is a shame because the VW Beetle Fender is a great tie-up with the guitar maker and this is an impressive special edition.
The Beetle Fender comes with an (only engine choice) efficient yet powerful 2.0-litre TDI 140 PS engine connected to either a six-speed manual or DSG gearbox.
And, like the cover of Spinal Tap's infamous album Smell The Glove (cliché courtesy of VW), it's available in just one colour – black (in this case a lustrous Deep Pearl Black) and with a rear spoiler. There are also 18-inch 'Discus' alloy wheels and a Fender badge on each front wing.
However, the interior really shows off the tie-up with the guitar maker because each model comes with a dash panel in vibrant 'Sunburst' wood, just like a classic Fender guitar.
Now, if that's not enough to rock your world, each car is fitted with the incredible 400-Watt Fender sound system, complete with boot-mounted subwoofer and illuminated front speaker mountings.
The only thing missing is a volume dial that goes up to 11.
Each Beetle Fender also comes with the RCD 510 audio unit with full-colour touchscreen and MDI multi-device interface, 2Zone climate control, front and rear parking sensors, bi-xenon headlights and bespoke 'Cheyenne' cloth seats with leather-look side bolsters.
The Beetle Fender costs £23,015 for the manual model, and £24,610 for the DSG.
VW are taking orders from this week and don't know how many they will make but production is limited.
Potential buyers – and anyone thinking of leasing a VW Beetle – should note the Fender is much better value than the Sport version it is loosely based upon and should be worth more when you come to sell it on in a few year's time too.