Jeep are following up on their promise to develop their impressive range and have unveiled the new Grand Cherokee S-Limited.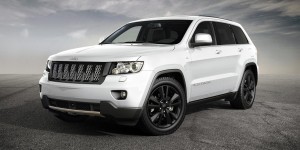 The new Grand Cherokee S-Limited
The new 'Sports Line' is a formidable vehicle, designed to sit competitively in the 'sports-styled' premium SUV segment of the hotly contested 4×4 market. Essentially it's a Jeep Grand Cherokee without the massive petrol-chewing engine so it should appeal to a wider buying audience.
One of the 'joys' of driving the Grand Cherokee – especially the massive 6.4litre V8 SRT – is watching the fuel gauge drop like a stone whenever you need to overtake or slightly accelerate for any reason.
However, the S-Limited is powered by Jeep's proven 237bhp, 2987cc V6 CRD diesel engine with new-generation, 1.8-bar injectors and MultiJet II technology developed by Fiat.
Buyers will still be buying a car that is unmistakeably a Jeep with its assertive yet attractive sports appearance and in the main it resembles the SRT. But cheaper to run.
Also on the exterior is a real carbon fibre trim and the package is better than some of its competitors.
On the inside there's a leather-wrapped heated steering wheel and ventilated sports-styled Nappa leather seats. Bright, racing style pedal pads add to the sporty, performance-oriented look inside the cabin.
Further standard features include Quadra-Lift air suspension, Quadra-Trac II four wheel drive system, cross-path detection, adaptive cruise control, blind spot monitoring, Uconnect navigation, black gloss 20-inch alloy wheels, 825-watt Harman-Kardon audio system with 19 speakers and three sub-woofers, power tailgate, and distinctive black grille and rear light bar.
The new Grand Cherokee S-Limited will cost £44,595 (OTR) when it goes on sale this month.
It's a lovely vehicle but have a look at leasing options, if you're thinking of getting one.