This is the new Citroen C5 Aircross car lease model that has been redesigned to boost its road presence with a new look and more technology.
Along with the striking new nose, there are new 18-inch alloy wheels and a longer list of personalisation options.
Citroen has also added three-dimensional distinctive light signature bars at the rear.
Plus, there's still the firm's advanced comfort suspension, as well as comfort seats to deliver a serene and very comfortable ride.
Contract hire Citroen C5 Aircross
The contract hire Citroen C5 Aircross has been a popular vehicle since its 2018 launch.
It's also found a niche in the competitive SUV segment with lots of space and unrivalled comfort levels.
The range includes the popular plug-in hybrid Aircross with an all-electric range of 34 miles.
That makes it a sound car leasing choice for company car drivers with a reasonable benefit in kind rate.
C5 Aircross lease range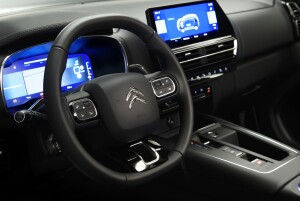 The C5 Aircross lease range still retains the 'air bump' protectors on the side of the car to help it stand out from rivals.
The latest version offers diamond-cut 18-inch alloy wheels, gloss black door mirrors and roof rails, and there are matt black inserts to offer a stylish creation.
The range is available in six body colours and there's a 10.0-inch display in a stylish cabin.
This larger display has improved ergonomics with direct access for the climate control and it now includes satnav as standard.
Active driver assistance systems
The driver's display is a customisable 12.3-inch screen that offers information on the hybrid's performance and the active driver assistance systems.
Citroen has also added the latest generation of its advanced comfort seats to offer the best for driver and passenger comfort – they are ideal for those who are driving long distances.
The progressive hydraulic cushion suspension absorbs road bumps really well, and the acoustic front windows help to keep the cabin nice and quiet.
The new Citroen C5 Aircross car lease range offers a stylish and well-equipped offering for those wanting a contract hire SUV that is a little bit different.