The all-new Kia Sportage car lease range will impress with a new look and the latest technological innovations.
These first official images show the stunning Sportage to its best effect with an exterior design that has been revamped and there's a new interior to impress.
The models coming to the UK will be unveiled in September – and this will be the first time there is a dedicated European version of the car in its 28-year history.
The exterior sees a new black grille and various design tweaks, including the firm's 'tiger nose' grille.
The contract hire Kia Sportage
However, the big changes for the contract hire Kia Sportage are inside with lots of innovative and intuitive technology.
The dashboard is now an integrated, sculpted curved display with a touchscreen pad and new detailed air vents to create the new cabin.
The curved display delivers width and depth to the cockpit and the new three-dimensional air vents allow air to flow easily.
There's a new advanced integrated controller for the high-tech touchscreen pad which works as a nerve centre for the connectivity functions.
The infotainment system has been designed to be easy-to-use, and the technology for driver assistance have been boosted as well.
Quality premium materials for the interior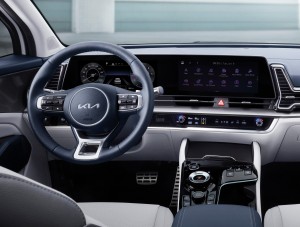 Kia has used quality premium materials for the interior and the cabin design is striking.
Along with vibrant and dynamic colour choices, there's no doubt that this is a comfortable place to spend time.
The firm has also designed the rear of the front and driver passenger seats to hold an integrated hanger that allows handbags and clothing to be conveniently and easily hooked in place.
The interior has been designed to be practical and functional. and for many families and those wanting a spacious SUV, it's versatile too.
All-new Kia Sportage lease
The all-new Kia Sportage lease will have an X-Line trim featuring a curved roof rack, side sill and unique bumpers.
Customers can also decide whether they want black or signature sage green seating that features black wood and bold quilting to boost the car's persona.
More information about the equipment and prices will be revealed later this year, but there's no doubt that the Kia Sportage car leasing range – already one of the UK's bestselling models – will bring an impressive offering to a competitive segment.