The new Audi Q5 Sportback TFSI e PHEV is a car lease to consider with its new range-boosting battery.
This part-coupe, part-SUV vehicle has now benefited from a hybrid powertrain and it is the latest Audi to feature its plug-in technology.
Audi says this will offer drivers the best of both worlds and deliver financial and environmental benefits.
The new Q5 Sportback plug-in offers drivers zero-emissions driving with a longer battery range.
Q5 Sportback plug-in car lease
The Q5 Sportback plug-in car lease comes with a choice of two outputs.
These are the 50 TFSI e quattro 299 PS for most trims, or 367 PS being produced with the 55 TFSI e quattro in the Competition and Competition Vorsprung trims.
All models feature the firm's 2.0-litre TFSI petrol engine with an electric motor delivering 105kWh.
The power is delivered using the firm's seven-speed S tronic transmission.
For most of its driving, the new plug-in Q5 Sportback will have two-wheel drive and will switch to all-wheel drive when necessary.
Plenty of equipment on the new hybrid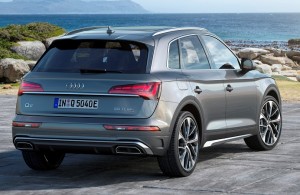 There's also plenty of equipment on the new hybrid and this includes a new two-section dashboard.
This features the firm's infotainment system that is home to the in-car technology.
The 10.1-inch monitor offers voice control and there's a panoramic 12.3-inch virtual cockpit display for the instruments and sat nav.
This display will offer high-res satellite images and navigation from Google Earth and deliver accurate traffic information.
Other equipment includes three-zone climate control, heated leather sports seats as well as rear privacy glass.
The stylish cabin features a sports steering wheel, a brushed aluminium trim and the Q5 comes with 20-inch diamond cut wheels.
New plug-in Audi Q5 Sportback car lease
Audi says that the new plug-in Audi Q5 Sportback car lease offers a good Benefit-in-Kind (BiK) rate of between 6% and 10% in most cases.
The electric-only range for the battery is 37 miles which will be very attractive for those who are commuting to work.
The other big attraction for the new Audi Q5 Sportback TFSI e PHEV is a claimed fuel consumption of 166 mpg which makes this a very attractive SUV to lease.