For anyone wanting to drive a pure electric MPV, then the impressive Citroen e-Berlingo is a car to consider leasing.
Not only will the 100% electric MPV offer drivers a battery-powered range of 174 miles, it is also available in two lengths.
The 'Medium' e-Berlingo will seat five in comfort, while the XL will seat seven people.
This makes the new electric MPV ideal for business users and families with a versatile and practical interior.
Contract hire Citroen e-Berlingo
The contract hire Citroen e-Berlingo has a 100kW electric motor producing 136HP of power and torque of 260Nm.
There are three driving modes for the 50kWh battery, and they are Normal, Eco and Power.
It helps that the e-Berlingo can boost its range by topping up the battery with a regenerative braking system.
There's also a button on the console for drivers to press that also boost energy recovery.
Battery charging time for e-Berlingo
The battery charging time for the e-Berlingo is just 30 minutes using a fast charger for the battery to reach 80% of its capacity.
Charging the battery from home will take between five hours or 7.5 hours depending on the charger being used.
To help running costs, the Citroen e-Berlingo has a function for drivers to set the charging time to take advantage of cheaper electricity in off-peak hours.
The new e-Berlingo also has styling tweaks with an 'e' monogram on the tailgate and front grille.
A lot of equipment for the MPV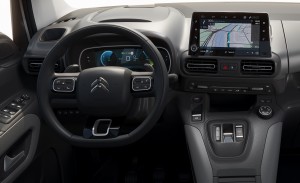 There's also a lot of equipment for the MPV that will reach the UK's showrooms later this year.
There are 18 driver assistance technologies available, depending on the model selected, including keyless entry and start.
Drivers also get cruise control, electric parking brake, park assist and a reversing camera.
Safety features include active safety brake, driver attention alert, active lane departure warning and Grip Control to boost control on slippery surfaces.
The e-Berlingo has three optional packages
Citroen is also offering its e-Berlingo with three optional packages to boost comfort and safety.
They include Connect Assist to contact a dedicated call centre whenever necessary, and the system will also call the emergency services should there be an accident.
Connect Nav offers an excellent satnav with a three-year subscription to the firm's services that includes real-time traffic updates.
There's also Connect Play so a smartphone can be connected safely, and the screen duplicated with the infotainment screen.
More details about the impressive new Citroen e-Berlingo will be available later in the year but it already looks like an excellent car leasing choice for those who want to enjoy a stylish EV.