The updated Mazda CX-5 car lease range is now in the UK's showrooms and there's a lot to like.
This dynamic and spacious SUV offers more style and features a 2.5-litre petrol engine producing 194 PS.
There's also a new Kuro special edition with a 2.0-litre petrol engine producing 165 PS.
The infotainment system has also been upgraded with the addition of the firm's 'connected services'.
The system is accessed using a clearer – and much quicker – 10.25-inch display screen.
Mazda CX-5 car lease
The Mazda CX-5 car lease also offers access to these connected services with the 'MyMazda' app.
This means drivers have the convenience of using the vehicle finder function, remotely locking the doors and even pre-programming the satnav destinations.
The 18 models in the CX-5 range have the choice of diesel or petrol engines – each of these is mated to either an automatic or manual transmission.
The line-up also includes front-wheel, or all-wheel drive options depending on the driver's needs.
The i-Activ AWD system is an excellent offering that provides excellent grip over slippery surfaces.
Contract hire Mazda CX-5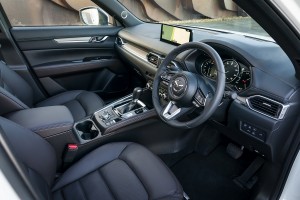 The contract hire Mazda CX-5 has three trims to choose from and there's plenty of standard equipment.
Another new feature for the car's engines is the optimised throttle calibration to deliver more control and response.
The six-speed automatic gearbox delivers smoother and quicker gear changes.
The new CX-5 Kuro offering is an interesting addition with unique looks and production is limited to 750 examples.
There's a choice of two metallic paint colours, plus black mirror caps and 19-inch black alloy wheels.
The model also has heated front seats, a power adjustable driver's seat and half-leatherette and suede seat trims.
CX-5 has been a popular choice
The Mazda CX-5 has been a popular choice in the UK since its launch in 2012.
Contract hire drivers like the practicality and style of the SUV, and the second generation should boost its popularity.
It's also an important car for Mazda with the CX-5 accounting for 26% of the firm's new car sales.
The new offering is a great choice for those wanting an excellent SUV, while the special edition Kuro gives those who are interested in the CX-5 a stand-out SUV offering with unique detailing.
The Mazda CX-5 is a well-made and well-designed SUV that makes for a sound car leasing choice for those who want a dynamic, nice handling and well-equipped car to enjoy.