The Mini Hatch car lease range has been updated with fresh technology and a modern design.
The revamp has also been extended to the Mini Electric and to the Mini Convertible.
Mini says that the design will emphasise its most popular features with new exterior body paint choices and alloy wheel designs.
An electric handbrake is also now available on all Mini models.
The Mini range also as an 8.8-inch central screen, as well as a digital dashboard as standard.
Mini Hatch contract hire range
The refreshed Mini Hatch contract hire range is available to order now with deliveries starting in the spring.
It has been 20 years since the modern Mini was relaunched and this latest generation is evolving nicely.
The exterior redesign sees the Mini getting a modern makeover with a larger radiator grille and the hallmark Mini round headlights.
The carmaker now offers eight new paint finishes for the exterior, and the choice of five new light-alloy wheels.
Also, with the multitone roof, every Mini will be individual, the firm says.
Contract hire Mini Hatch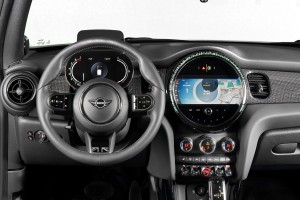 The revamp for the stylish contract hire Mini Hatch continues into the interior with a 'piano black' surface fitted as standard.
There are new buttons and controls for various functions, including the driver assistance systems.
Mini has also revealed a new sports leather steering wheel that has multifunction buttons that will be fitted as standard.
And the infotainment system has also been updated with a new structure to access telephone and audio functions, as well as the car's voice control offering.
The revamp also sees the trim packages being extended with more choice for safety features and upholstery.
New Mini app
There's also a new Mini app that meets the increasing trend for offering a digital lifestyle so drivers can contact their car at any time.
They can access information about the car's status including the charge level of the battery in the Mini Electric and fuel levels.
Prices for the Mini Hatch start at £16,045 for the three-door model, and rise to £27,920 for the Mini Electric with the automatic transmission.
There's a lot to recommend the Mini Hatch range as a car leasing choice, particularly the Mini Electric, and the latest styling improvements help boost its attractiveness to drivers.