The covers for the new Nissan GT-R Nismo for 2020 have been lifted to reveal an impressive offering.
With prices starting at £174,000 OTR, the new model is available to order and features race-inspired upgrades along with tuning improvements.
The firm is also unveiling a Track-focussed edition which is much cheaper with various options to boost racing performance.
The new model features race-proven turbochargers, better gearbox shift control and lighter components.
There have also been upgrades to the brakes with improvements to the tyres and overall weight.
New Nissan GT-R Nismo delivers high-speed stability
Essentially, the new Nissan GT-R Nismo delivers high-speed stability with a top speed of 186 mph.
The new model is assembled by master technicians with each engine coming with a special aluminium nameplate.
Other improvements include a new turbocharger to deliver better acceleration and there's titanium exhaust system that delivers a unique tone.
The six-speed dual-clutch transmission will now shift more quickly when in 'R' mode and a new algorithm helps the adaptive shift control to act intuitively.
The new model also contains more carbon fibre than the current offering, including lighter bumpers, spoilers and sill covers.
There's also, new for 2020, a carbon fibre roof which helps to lower the GT-R's centre of gravity to boost handling.
Nissan GT-R Nismo has new bumpers to boost downforce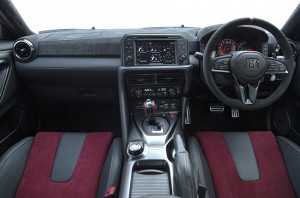 Another feature for the Nissan GT-R Nismo are new designs for the bumpers to boost the downforce without creating drag which also helps deliver the high-speed stability.
The colour choices for the model are Jet Black Pearl, Solid Red, Pearl White Tricote and Super Silver Quadcoat.
To help stop the car at high speed, Nissan has worked with Italian brakemaker Brembo to create new brakes, which include large callipers that join carbon ceramic rotors and are the largest fitted to a Japanese performance car.
Other features to be enjoyed when the car is being put through its paces include improved suspension, particularly when cornering at speed and Dunlop tyres that feature a new rubber compound that boosts grip by 7%.
Get this car on personal contract hire
The GT-R is not just about excellent performance levels as there are new Recaro front seats, leather upholstery with red accents and it's a very stylish cabin to enjoy.
The Nissan GT-R Nismo has a strong following and there's a lot like about the new model which will prove to be a worthy successor to what has been an excellent car to drive for thrills.