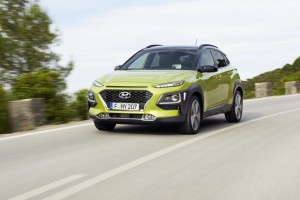 This is the impressive all-new Hyundai Kona which will shake up the small SUV market and take on the likes of the Nissan Juke and the soon-to-be launched Citroen C3 Aircross.
It helps that Hyundai build excellent SUVs and with its eye-catching exterior styling, the firm is intent on attracting younger buyers.
Indeed, Hyundai says that by 2021 they hope to be the leading Asian brand in Europe.
The Kona is a sure step in the right direction.
Hyundai Kona is an all new creation
To help set the car apart, the Hyundai Kona is an all-new creation with a sharp design with a two-tone roof and 10 exterior colour schemes.
The interior has been well designed with highlights around the air vents and cover stitching on the steering wheel and seats.
The Kona is available with four-wheel-drive, a seven-gear automatic gearbox and the latest powertrains which deliver economical diesels and turbocharged petrol units.
Hyundai Kona joins the trend for impressive head-up displays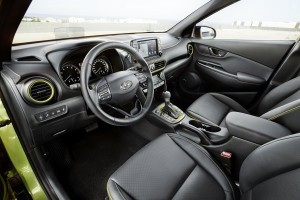 The Hyundai Kona is also joining the trend for impressive head-up displays and this one has a bright projector so the vehicle's driving information is in the driver's line of sight.
Along with the 7-inch infotainment system, the Kona also enables the use of Android Auto and Apple CarPlay for connectivity.
Most models also come with a high-end sound system featuring eight speakers which Hyundai says delivers concert hall sound.
Get this car on personal contract hire
The Kona is also packed with safety kit including autonomous emergency braking with pedestrian detection.
Hyundai says the Kona is an important milestone on their journey to become a major car seller in Europe and they've sold more than 1.4 million SUV's since 2001 on the continent.
Their bestselling model is the Tucson which has shifted more than 200,000 units since launch two years ago.
The all-new Hyundai Kona will go on sale from November and prices are expected to start from £15,000 which, along with the kit list and strong warranty offering, will make it a popular choice in a fast-growing segment.