It's one of the most underrated compact crossovers currently on sale and there's a new Subaru XV for potential owners to enjoy.
The vehicle was unveiled at the Geneva motor show and it's based on the firm's new global platform.
This will mean that the ride comfort as well as agility will be improved as will safety; the XV was already one of the better crossovers to drive so this is a big plus.
There's also an all-new 2.0 litre direct injection Boxer engine fitted as standard on all models along with symmetrical all-wheel drive which should help boost Subaru which has one of the best reputations for off road driving.
Better grip in the Subaru XV
Indeed, the firm has added the ability to enhance off-roading with its X-Mode system to deliver better grip in the Subaru XV when needed.
There's also new styling for the exterior which points to the tweaks other Subaru cars will get in coming months.
Subaru says that the XV's compact body delivers excellent SUV capabilities and with its sporty yet rugged design it is suitable for use in the countryside and in urban areas.
Subaru XV was first launched in 2012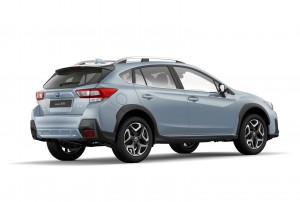 The Subaru XV was first launched in 2012 and the new model has seen a substantial revamp with strength and chassis rigidity improved with the new platform architecture.
The car also has hazard avoidance and collision safety systems that Subaru claims are world-class and there's improvement to ride comfort and more responsive handling too.
Among the equipment is an 8-inch touchscreen display for the car's entertainment system with smartphone connectivity.
The new Subaru XV also has a lower centre of gravity than the model it replaces so the steering is more precise and with an improved suspension system.
Get this car on personal contract hire
To underline just how effective the new platform is, when coupled with the suspension, Subaru says the XV's body roll has been reduced by 50% compared to the current model.
The new Subaru XV deserves to be a success for the firm and for anybody wanting a stylish and great performing crossover then the XV deserves closer examination since the current model deserves to be a bigger success than it has been because it offers everything drives are wanting and decent off-road performance as well.