The impressive all-new Vauxhall Crossland X has been unveiled and it should make waves in the booming SUV segment.
The new model has an elevated seating position and offers flexibility and practicality for drivers to enjoy a spacious, well equipped interior.
Also, fitted as standard, is the firm's OnStar system.
Driver assistance systems for the Vauxhall Crossland X
There's also lots of driver assistance systems for the Vauxhall Crossland X as well as touchscreen infotainment.
However, there is no doubt that Vauxhall has made the Crossland X a family car with its flexibility and practicality and though it's more compact than the excellent Mokka X, it does offer better manoeuvring in urban areas.
Essentially, the new car goes up against the likes of the Peugeot 2008 and the Renault Captur.
The new Vauxhall Crossland X deserves to be a success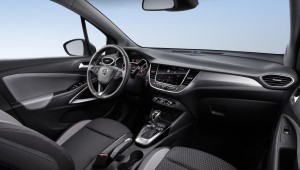 For the new Vauxhall Crossland X to be the success it deserves to be, it will need to deliver exceptional performance in a practical package and this is what the car will do.
Among the impressive improvements are more comfortable seats, more legroom and flexibility to create more luggage capacity when necessary.
There's also a panoramic rear-view camera, forward collision alert, pedestrian detection and pedestrian detection assist.
The Vauxhall Crossland X also has autonomous emergency braking, speed sign recognition, blindspot alert and lane departure warning.
Get this car on personal contract hire
However, Vauxhall has also revealed that there's a larger model joining is SUV line-up later this year, the Grandland X, which will make the firm's offering one of the best around.
The Vauxhall Crossland X is scheduled to arrive in showrooms this summer and it's bound to be a popular choice as a car that is firmly focused on delivering an excellent family car experience.