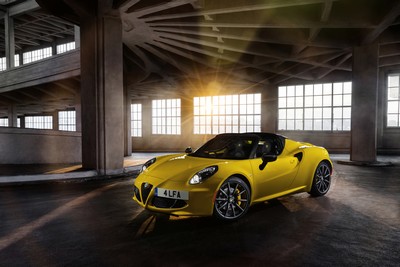 With an excellent motorsport heritage behind it, the new Alfa Romeo 4C Spider has gone on sale and retains the firm's 'aesthetic purity'.
Alfa says its new Spider will deliver lots of driving pleasure as well as an exhilarating performance.
Along with new alloy wheels and a new rear engine cover design, the Alfa Romeo 4C Spider also has a lightweight cloth roof and new xenon headlights.
In addition, there's lots of extra equipment on the new car and prices for it start at £59,500 OTR.
Just like the coupe sibling, the new 4C Spider has been built on a lightweight carbon fibre monocoque with few structural differences in the transition from the coupe.
Alfa Romeo 4C Spider has a new rollover structure
Perhaps the biggest development on the Alfa Romeo 4C Spider comes with the introduction of a new aluminium rollover structure which is nestled beneath a specially developed carbon fibre windscreen frame.
Alfa have also replaced the fastback rear end of their coupe with a distinctive Spider buttress and a new engine cover. The cover itself features three heat extractors and a rear spoiler.
The firm also says it spent a lot of time and effort to ensure that the driving pleasure is an excellent one when the roof has been removed.
This means that drivers will have minimal wind noise intrusion and the aerodynamic characteristics will be excellent.
Install a hardtop for the Alfa Romeo 4C Spider
For those who want to use their Alfa Romeo 4C Spider all year round, the cloth top can be replaced with a carbon fibre hardtop version.
Alfa engineers have also made this a great car to enjoy track days with and among the options are for additional transmission coolers and new wheel designs.
In the cabin, owners will find a top end sound system and options for leather seats with matching stitching and door cards.
Underneath the bonnet, Alpha has fitted the coupe's 1750 TBi engine which produces 240 HP and has a top speed of 160 mph.
This means that the Alfa Romeo 4C Spider can rocket from 0 to 62 mph in less than 4.5 seconds.
For the money, owners will also get a bespoke car cover, parking sensors, cruise control, car care kit and luxury floor mats.