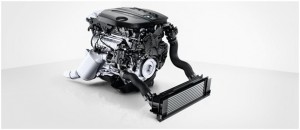 It may be that I'm old school and part of a dying breed – and probably somewhat of a nutter too – but the main feature that attracts me to (or repels me from) any car is its noise. I like a good loud and aggressive rumble, the chugging gargling of a car's pipes and the slurping sound of petrol being sucked out of a tank. I should add that a noisy exhaust on an underpowered GTI does nothing to me. There needs to be serious power too.
Generalising, in my experience the best sounding engines are Audi five-cylinders, BMW six-cylinders and bold American V8's. No surprise then that I'm not too thrilled with the strong recent trend of engine downsizing.
Let's start with BMW, 'cause I've got one. I've got an E36 – that's the 3-Series model built between 1991 and 1999 – with a 2.8 straight six; a 328i. Bought it not too long ago because the more or less company-enforced Fiat Punto Evo didn't really get me smiling (though don't get me wrong, it's an excellent small car, one of the best ones in the segment). The upcoming 328i, of the F30 series, will put out round about fifty more horses, but uses only four cylinders. Surely it won't sound terribly bad, but it will never be able to match the sound of a six-in-line.
Then there's the five cylinder. The good news there is that Audi has been reintroducing it, after a very lengthy absence, a couple of years ago, first in the TT RS, now also in other models like the RS3. Those are top of the line motorisations for these models though and they will cost you a whole bunch of kidneys to own. For those with a slightly smaller budget, there were opportunities with a Ford-based engine: the Volvo C30 T5 and the Ford Focus ST (there was a Focus RS too, but that too costs body parts). The new Focus ST has already lost a cylinder and I'm dreading the day the Volvo will lose one too.
And then there's the American V8. The cornerstone for decades of the American automotive industry. With fuel prices on the rise, even the Yanks are stepping away from their monstrous but oh-so-delicious eight cylinders in V-configuration. Even the Ford Explorer, traditionally an SUV with considerable thirst, has been sorted with an I4. A big one – two litres – pumping out 240 broncos, but it still gives the oversized shopping cart a highway rating of 28 mpg.
That's already better than my straight six.