The Citroen C3 car lease range has enjoyed a range of updates for 2022 with a new structure of trims.
This sees the 'Shine' trim level leave the car's line-up, while the more recent and popular Saint James trim takes up a prominent position for those interested in leasing the C3.
The new Sant James C3 not only has a distinctive look but it has also been inspired by the clothing brand of the same name that celebrates artisanal traditions.
Citroen also highlights that the new model has a significant improvement in its specification but costs just £400 more than the Shine version.
Contract hire Citroen C3 Saint James model
The contract hire Citroen C3 Saint James model has a choice of manual or automatic petrol powertrains and they are the very good petrol PureTech and PureTech 110 versions.
Citroen is retaining its diesel engines for the other C3 trims.
Standard features for the new model include advanced comfort seats, which are a great choice for those racking up lots of miles as they have been designed with textured, thick foam along with leather-effect materials and soft fabric.
C3 Sant James lease range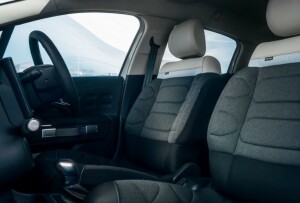 The C3 Sant James lease range features an exclusive exterior styling pack with roof decals and logos, along with a soft-touch dashboard.
There are also new carpet mats and the extra kit that was not featured on the Shine models includes a reversing camera, a leather-covered steering wheel and tinted windows.
Drivers also get 16-inch bi-tone alloy wheels.
The prices for the Citroen C3 range start at £14,180 and rise to £20,775 for the Shine Plus model with the diesel engine producing 100 HP.
Citroen C3 is a great car to lease
There's no doubt that the Citroen C3 is a great car to lease if you want a car that stands out from the crowd.
It's a bold design and the C3 includes 11 driver assistance systems including front parking assist that's a new addition to bring stress-free driving.
Like many other car manufacturers, the C3 has a long list of options to help customise the offering including four bi-tone roof colours, seven body colours and three roof decals.
The C3 update also includes a choice of brand-new alloy wheel designs and three interior ambiences.
There's a lot to like about the Citroen C3 car lease range and it's a comfortable family car to live with.