It's one of the UK's most popular electric vehicles, and now the Nissan Leaf car lease range has been upgraded.
Drivers get more technology and improved safety features, and there's also a new signature sound for the 2021 model.
The new acoustic vehicle alerting system – all EVs will need these to meet European regulations – delivers a new sound there's been called 'Canto' by Nissan.
The system has been designed to transmit sound that has been artificially simulated to resemble a combustion engine to help alert other road users that an electric vehicle is nearby.
The first generation of the Nissan Leaf also had an alerting sound to make other road users aware that a silent EV was heading in their direction.
Contract hire Nissan Leaf
The contract hire Nissan Leaf offers a blend of connectivity and smart driving, as well as sustainability.
Drivers get a new intelligent blind spot intervention system fitted as standard, and there's in-car Wi-Fi too.
The blind spot system monitors other road traffic and should the Leaf stray into their path, it will automatically intervene to steer the Leaf back to safety.
The infotainment system is smartphone compatible and there's the option of the firm's intelligent rearview mirror.
This is an LCD monitor in the car's rear mirror which is connected to a camera that is hidden at the rear so the driver can see clearly what is behind, even if there are passengers in the rear seats.
Latest Nissan Leaf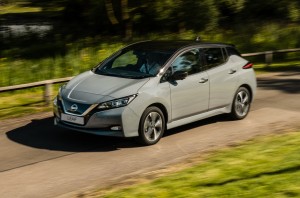 The latest Nissan Leaf also includes 16-inch alloy wheels, rain sensing windscreen wipers and automatic climate control.
The electric car also comes with an 8.0-inch infotainment system, with some models adding a 360° parking camera, heated seats and part-leather upholstery.
The range-topping version is the Leaf Tekna which features an electronic parking brake, suede and leather upholstery and a premium Bose stereo.
There's also the firm's impressive ProPilot semi-autonomous driving system and LED fog lights with a cornering function.
Lease the Nissan Leaf
Drivers wanting to lease the Nissan Leaf get the choice of two powertrains; the cheapest is the Leaf with the 40kWh battery that is mated to an electric motor producing 148 bhp.
It offers a range of 168 miles plus rapid charging so the battery will take one hour to achieve 80% of its capacity.
Nissan is also offering its Leaf with a 62kWh battery that is mated to an electric motor producing 218 bhp.
It offers a range of 239 miles and an impressive 0 to 62 mph sprint time of 6.9 seconds.
There's a lot to like about the latest Nissan Leaf car lease range and it looks set to maintain its popularity as a contract hire electric vehicle with drivers in the UK.