This is the eye-catching Honda HR-V car lease model which has been revamped from the ground up.
It has coupe-inspired styling and offers a two-motor hybrid powertrain promising efficiency and performance.
And it is the latest e:HEV (hybrid electric vehicle) that the Japanese carmaker has added to its line-up.
The firm says that all Honda cars sold in Europe will be electric by 2022.
Contract hire Honda HR-V hybrid technology
The contract hire Honda HR-V hybrid technology has two powerful but compact electric motors that have been mated to a 1.5-litre petrol engine.
The combined power output is 131 PS and torque of 253Nm.
Drivers get three driving modes which will be selected automatically to suit the driving conditions.
To help boost fuel consumption, the HR-V will set off in electric mode and then switch seamlessly to hybrid mode whenever more power is needed.
At higher speeds, the electric motors will help the petrol engine.
HR-V delivers lots of connectivity
The HR-V delivers lots of connectivity with the firm saying they are making things easier to access our digital lives.
There's an intuitive 9.0-inch display with a simplified menu that has been designed to minimise driver distraction.
The driver can also tailor how much driver-assistance system data will be displayed on the 7.0-inch touchscreen.
The system is also smartphone compatible, and the latest features and apps can be updated automatically with over-the-air software updates.
Lots of new safety equipment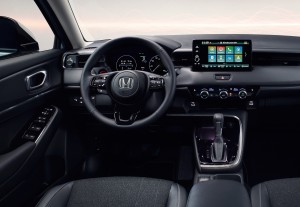 Drivers will also get to enjoy lots of new safety equipment including the firm's 'Sensing' system.
This is a major upgrade and adds a high-definition front camera with a wide-angle lens and quick image processing to help the driver.
The pedestrian collision mitigation system will work at night now, and there's also a collision mitigation braking system to detect other vehicles and objects in front of the H-RV.
Honda has also added adaptive cruise control when the car is overtaking or changing lanes.
Added for the first time is hill descent control
And added for the first time is hill descent control which will operate from speeds of just 3km/h.
The HR-V also enjoys cross-traffic monitoring and a blind spot information system that now detect vehicles up to 25 metres – rather than the current three-metre offering.
There's also no doubt too that the bold new look will attract attention and there's a spacious interior for the driver and occupants to enjoy.
There's no indication yet of what the all-electric range for the battery is, but Honda says it is focused on delivering an efficient and rewarding car to drive.
The Honda HR-V car lease range goes on sale later this year and the contract hire deals will be worth checking when this happens.