The fastest and most potent contract hire Land Rover Defender ever has been unveiled with a new V8 engine.
The 525 HP 5.0-litre supercharged unit offers a top speed of 149mph, and an incredible sprint time from 0 to 62 mph in just 4.9 seconds.
The transmission and bespoke chassis combine to make this the most dynamic and capable version of the award-winning 4×4 yet.
The new Defender now lines up alongside the efficient diesel and petrol powertrains, plus the plug-in hybrid.
Land Rover Defender V8 car lease
The Land Rover Defender V8 car lease also has a range of new special editions including the XS Edition with a comprehensive spec and unique exterior design tweaks.
Land Rover is also extending the level of customer personalisation options across the line-up of its Defenders, including a new Bright Pack.
The pack adds chrome touches and styling tweaks to enhance the Defender's good looks.
There's also the option of a new 11.4-inch touchscreen for the infotainment system, plus there's new signal boosting technology and wireless charging.
Defender V8 has a redeveloped transmission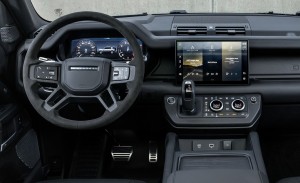 Land Rover also says that its Defender V8 has a redeveloped transmission and suspension to deliver a dynamic and fast vehicle.
The V8's Carpathian Edition is the range-topper to offer the best in the Defender's capability, performance and design.
The torque from the engine is 625Nm, and the power is delivered using an eight-speed automatic gearbox.
Fuel consumption for the Defender V8 is 20 mpg, with emissions of 327g/km.
V8 delivers exceptional off-roading capabilities
The Defender V8 also delivers exceptional off-roading capabilities with a new dynamic mode that sits within the vehicle's Terrain Response system.
This is only available on those Defenders with the V8 engine.
Land Rover says that this will help drivers to enjoy the handling and dynamic character that the engine delivers.
The new model also sees the infotainment system being improved and with enhanced connectivity so the Wi-Fi signal in the vehicle is stronger.
The new display is 60% larger than the version it replaces which makes following satnav guidance easier.
The menu structure has also been simplified and is easier to customise too.
Prices for the new Land Rover Defender V8 will start from £98,505, which makes the potential of leasing what is an impressive and talented off-roader worth exploiting.