This is the all-new Ssangyong Rexton which will deliver a flagship vehicle for the ambitious South Korean carmaker.
It's a stylish addition to their range with lots of new technology and safety levels on board what is a nice vehicle to drive.
Indeed, there are a lot of the SUV abilities inherited from the original vehicle and the 2.0 litre turbodiesel unit will help deliver the performance drivers are looking for.
It helps also that there is a seven-speed Mercedes-Benz automatic gearbox help deliver the on- and off-road agility along with four-wheel-drive.
Ssangyong Rexton takes inspiration from the underrated Tivoli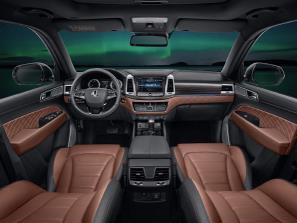 The Ssangyong Rexton takes inspiration from the underrated Tivoli and for those on a budget, this is an SUV to put on their shortlist.
The market for decent off-road vehicles is growing around the world and owners are also looking for strong towing capabilities as well.
Safety features for the new Rexton include nine air bags and a world first for the strength of steel used in the body structure.
Drivers will also have autonomous emergency braking, rear cross traffic alert, lane change assist and blindspot detection as well as around view monitoring, among the list.
Ssangyong Rexton has an advanced infotainment system
On-board the Ssangyong Rexton there's an advanced infotainment system with smartphone conductivity which utilises a 9.2-inch touchscreen for the satnav and entertainment.
There's also fully automated dual zone air conditioning with dust filtering and a smart tailgate for unloading and loading the boot.
The Rexton is aiming to pick up sales in the competitive compact SUV segment and there's a lot to like about the vehicle, particularly for those who are not too concerned about the badge.
Get this car on personal contract hire
The car should be able to take serious punishment when taken off-road and it should be a decent performer on tarmac as well.
The new Ssangyong Rexton was unveiled at the Seoul motor show and will reach our shores later this year with prices and more details released nearer to the time.