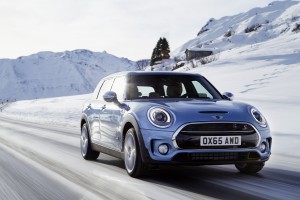 It's the first time four-wheel-drive has been available and the Mini Clubman All4 will deliver better performance for the popular vehicle.
Available from April, the all-wheel drive system will be an option for drivers wanting the Cooper S and SD models with prices starting from £24,300.
Until now the All4 system was only available on the Countryman and the system is electronically controlled and will change the torque being delivered to each axle depending on where the most power is needed.
The Mini Clubman All4
This ability means that the Mini Clubman All4 will be able to increase its traction to accelerate out of trouble thanks to its electronic differential lock. Mini says this will be particularly useful when speeding out of corners.
Drivers who opt for the Mini Cooper S All4 will find a 2.0 litre four-cylinder petrol engine that delivers 189bhp while returning 41 mpg and having emissions of 159g/km.
That's when the engine is coupled to the six speed manual gearbox and the automatic version will see economy improved slightly and emissions fall.
The Cooper SD Clubman All4 has a diesel engine that produces 187bhp and a standard eight speed automatic transmission (there is no manual option) returns 59 mpg. The emissions are 126g/km.
Get this car on personal contract hire
Both versions of the Mini Clubman All4 are no slouches either and don't hamper its sprinting time from 0 to 62 mph – indeed the car is a few fractions of a second quicker in both models than the non-4×4 versions.
Standard equipment for the new models include satnav and the firm's Excitement Package which includes more interior lighting and when the door is opened, the Mini logo is projected underneath the door.
Mini point out this is the first All4 to be produced at its Oxford plant and it should, they add, improve the versatility and handling of the Clubman to be a sportier experience.
The Clubman was relaunched last October and has a high spec for the segment and deliveries for the excellent Mini Clubman All4 will begin in April.