News that Keith Richards' old Ferrari Dino was up for auction made me wonder whether it would be a good idea to buy a star's old car.
With the Rolling Stones guitarist being an upstanding citizen and a role model for clean living we can easily imagine that he looked after his old Ferrari well after buying it as new in 1972. Driving a fantastic car like this with such a famous history would undoubtedly be exciting but I wonder what other star vehicles I would most like to drive.
Jennifer Lopez's Aston Martin
She might have the worst stage name in history but J-Lo has a nice car or two. Ben Affleck apparently bought this 1998 Aston Martin DB7 Volante for her when they were what is technically known as a thing. It's now up for sale at auction. With under 15,000 miles on the clock the estimate of about 30 grand sounds very reasonable.
Gerald Butler's Jaguar
If you prefer to drive a vehicle that Jen and Ben haven't given each other slobbery kisses in then maybe the 1971 Jaguar E-Type Series III V12 Roadster once owned by Gerald Butler is a better bet. It was given a complete overhual in the early 90s and could sell for over 55 thousand pounds.
Jimi Hendrix's Corvette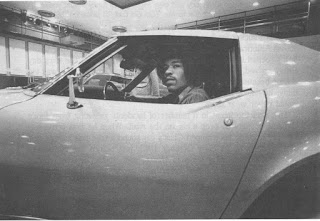 Picture by PHS Media Archives.
I don't know why but it is difficult to imagine the guitar burning genius behind the wheel. It turns out that when he first started making serious money from music he bought a 1968 Corvette. Sadly, he didn't have a driving licence and was stopped by police for driving the wrong way up a one way street the first time he used it. He wrote off this car shortly afterwards so I would need to try and track down the replacement he got from his insurance company, I guess. It was a Corvette Silver and it isn't known who owns it now.
 Jim Morrison's Mustang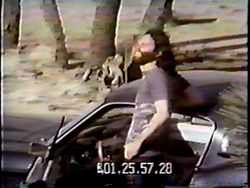 Image www.shelbymustang.com
Another legendary rock star car is Jim Morrison's Mustang. It seems as though these people aren't to be trusted with powerful vehicles, as the Doors singer is also said to have had a serious crash in his car. Legend has it that he hit a pole on Sunset Blvd and just left the car there while he went for a few drinks. When he went back again it was gone. Where could it be now? Might Jim be alive after all and still driving it?
Elvis Presley's Blackhawk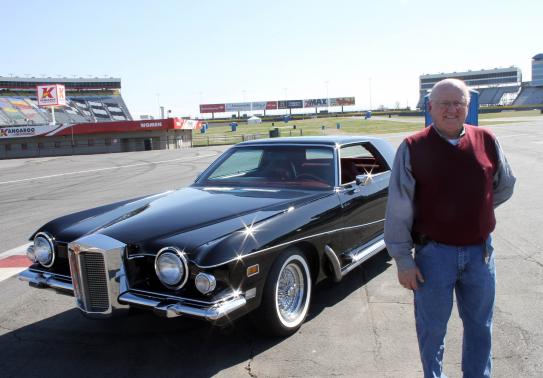 Image Credit: Reuters/CMS/HHP/Handout via Reuters
Elvis owned more than 200 cars and his final drive was in a 1973 Stutz Blackhawk III just a few hours before he died. It has a soft red leather interior and comes with a classy 18 carat gold trim. It was left to gather dust for decades but was recently put on display at a motor show in the US.
Which star's car would you most like to drive?