There are few parts of your body which are truly essential while you drive. For example, your elbows, your knees and your shoulders don't really get called into action all that much. Your hands, though, as pretty much an integral part of the overall motoring experience.
This simple but undeniable fact wasn't enough to stop a man from deciding to try and drive without his hands. Unfortunately for him, he got caught on camera doing it.
This piece of hands-free motoring madness happened when Richard Newton decided that going at 63 mph on the A171 just wasn't thrilling enough. To liven up the trip across the North York Moors he put his hands behind his head and started steering the car with his knees.
He carried on in this fashion for a full 30 seconds, blissfully unaware that he was being filmed by a police camera at the time as his VW Golf passed other cars going the opposite way on the two lane road. He was 3 miles per hour over the speed limit while he used his knees to keep him in the right lane.
He Claimed He Had a Bad Back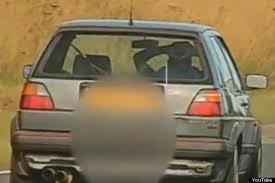 After the case went to court Newton said that he had been stretching because of a bad back and that he had still been in complete control of the vehicle, with his knees locked and his legs braced against the wheel. He also claimed to have had his foot on the brake in case he had to perform an emergency stop.
The judge didn't agree that this was a decent argument. The driver was found guilty of dangerous driving and banned from driving for a year. He also got fined £625 and got told to do 100 hours of community work into the bargain.
What is the craziest thing you ever saw a driver do?