Isn't it a horrible feeling to return to your vehicle and find a parking ticket sitting there waiting for you? Well, in the future you could get an even bigger shock when the ticket talks to you.
FlashPark is a UK company which has come up with the technology to give badly parked drivers a verbal warning when they return to their cars. At the moment, it is expected that this will simply be a gentle reproach to the motorist for parking on private land but it does still leave the door open to the firm responsible for it charging a fine.
The handing out of parking fines by private landowners is a huge money spinner in the UK these days. In fact, the latest figures from the DVLA reveal that the agency gave out details of a million and a half drivers to private enforcement firms in 2012, which led to around £150 million being collected in parking fines.
Dear Motorist, Don't come Back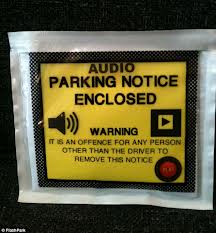 Back to the talking ticket though. It comes with a 30 second message which starts off with a friendly "Dear motorist" introduction and then asks them not to park on that spot of private land again.
Costas Constantinou is behind the technology and he said that this method gives the flexibility needed to make the message "as stern or as straightforward" as the person issuing the ticket would like it to be. Updated versions of the talking ticket are said to give motorists a chance to deliver a reply to the ticket-issuer if they want to.
Both the RAC Foundation and the AA has expressed concerns about this method, with an AA spokesman pointing out that they hope that the tickets won't interfere with any of the car's electronics when it is placed on it.