The all-new Kia Carens is the third-generation of this popular car and completes the design-led revolution that began a few years ago.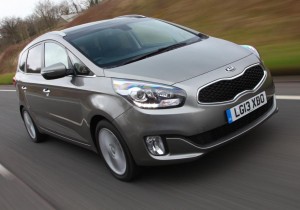 The new Kia Carens
Kia has now renewed every model in its range and helped transform its image and helped it to success.
The Kia Carens is a versatile and spacious seven-seater with three highly efficient and modern engines – one petrol and two turbodiesels – two transmissions and three trim and equipment packages.
To be fair, Kia is not claiming to have re-invented the MPV with the new Carens but it does provide all the room and versatility of its competitors while offering something that many of them lack: style.
MPVs exist to meet the varied needs of families rather than turn heads and the Kia Carens has been designed to do both.
Like the latest Kia Sportage crossover – another radical departure from the model it replaced, and one that has been at the forefront of Kia's rocketing sales – the new Kia Carens is a car people will want to own rather than one bought out of necessity.
The Kia Carens is shorter, narrower and lower than the model it replaces, which means that in size it sits somewhere between the five-seat and seven-seat models from competitors but matches them for interior space (thanks, in part, to the 50mm increase in wheelbase).
There are now three individual sliding and reclining centre-row seats in place of a split bench and two separate seats in the rear, all of which fold flat to ensure the ultimate in passenger-to-cargo versatility.
A longer, wider and taller luggage area and – for the first time – an under-floor compartment to store the cargo screen adds to the practicality of the Kia Carens. The front passenger's seat also folds flat to allow exceptionally long loads to be carried.
The standard version of the European-designed 1.7-litre CRDi manual transmission turbodiesel engine delivers maximum torque from 1,250 to 2,750rpm and 0-60mph acceleration in 12.6 seconds with a 112mph top speed. The more powerful engine option develops its 330Nm between 2,000 and 2,500rpm, which allows 0-60mph to be completed in 10.0 seconds and a top speed of 119mph.
Both 1.7 CRDi power outputs are clean and fuel-efficient. Combined cycle fuel consumption and CO2 emissions are 60.1mpg and 124g/km and 56.4mpg and 132g/km respectively, and a diesel particulate filter is fitted as standard.
Now on sale, prices start at £17,895 OTR but I'm guessing that the Kia Carens might be cheaper to own via a lease package.