This could be the future shape of all VW's SUV production vehicles and there are some very interesting innovations which could be seen on production cars soon.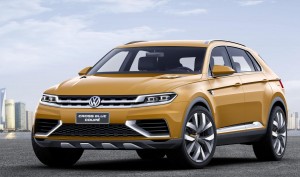 The VW SUV concept
The VW CrossBlue Coupe was unveiled at the Shanghai motor show to general acclaim with the new style impressing visitors.
The five-seater is 4,889 mm long, 2,015 mm wide and just 1,679 mm high: dimensions that give it a low-profile, wide appearance – for comparison, the VW Touareg is 4,795 / 1,940 / 1,732.
The VW CrossBlue Coupe also has wide tracks and a longer wheelbase than the Touareg which gives it a distinctively muscular and sporty appearance.
At the front, the radiator grille trim – consisting of two polished aluminium struts and the VW logo – is a 3D element extending into the headlights.  The lateral ends of the upper strut are used for the daytime running lights.
Along the side – under the steeply raked C-pillars – the ports for the fuel tank and battery were uniformly integrated into the design of the VW CrossBlue Coupe.
As is usual with Volkswagen, the fuel filler neck is located under a lid on the right side of the vehicle, while the cover for the electrical outlet is located symmetrically on the left side.  It consists of one socket for charging the high-voltage battery and another for connecting electric devices; this interface (16 A, 230 V) makes the VW CrossBlue Coupe a generator, too.
As well showcasing the future for Volkswagen design, the VW CrossBlue Coupe also highlights future drivetrain possibilities, in this case a plug-in hybrid system consisting of a V6 turbocharged direct injection petrol engine and two electric motors (40 kW front and 85 kW rear), together producing up to 415 PS (305 kW).
Using a six-speed DSG gearbox, the VW CrossBlue will accelerate like a sports car: it will go from zero to 62 mph in just 5.9 seconds, and the top speed is 146 mph.
Even with this level of performance, fuel economy is impressive with a combined cycle figure of 94.1 mpg.  In hybrid mode, with a depleted battery powered by the TSI engine, the VW CrossBlue Coupe returns 40.9 mpg.
This efficiency gives the VW CrossBlue Coupe, with its 80-litre fuel tank, a theoretical range of 740 miles.
There are no current plans for the VW CrossBlue Coupe to enter production but we will be seeing some of these advances appearing among its car range in the near future.