Ford has unveiled its new 1.5 litre EcoBoost petrol engine which will join its line-up of fuel-efficient, innovative powertrains.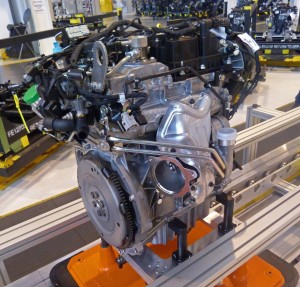 Ford's 1.5 EcoBoost engine
The new Ford EcoBoost will be first introduced in China in the all-new Ford Mondeo, making its public debut later this month at the Auto Shanghai Show 2013.
It will then be used for the Ford Fusion saloon in North America this year, and then for the European launch of the Ford Mondeo next year.
The 1.5-litre engine is a key strategic entry for Ford, as the company works to meet the strong global demand for its four-cylinder EcoBoost engines.
The Ford EcoBoost engine really is an impressive piece of work and the new 1.5 litre version should help push Ford cars onto greater heights.
The carmaker now has capacity to build 1.6 million EcoBoost engines annually and by the end of the year will have six plants across Europe, Asia and North America – triple the number that were doing so in 2010.
Production of the four-cylinder 1.5-litre Ford EcoBoost – the fifth member of the EcoBoost family – will begin initially at Ford's world-class facility in Romania this month.
Other manufacturing locations will be announced in the future.
Ford EcoBoost technologies enable improvements to both fuel efficiency and CO2 emissions of up to 20%. The 1.5-litre engine benefits from signature EcoBoost turbocharging, direct fuel injection and variable valve timing and has been designed to be even more fuel-efficient and offer high levels of engine refinement, quietness and performance.
Additionally, the newest Ford EcoBoost engine will be a strategic entry for the carmaker in global markets that offer tax relief to consumers who purchase vehicles powered by engines of 1.5-litre capacity or less.
The new aluminium-block, twin-cam 1.5-litre EcoBoost engine will feature some of the innovative features introduced on the award-winning 1.0-litre EcoBoost, including an integrated exhaust manifold.
Ford has sold more than 600,000 EcoBoost-equipped vehicles globally since the range was launched with the 3.5-litre V6 EcoBoost in 2009. The firm added the 2.0-litre EcoBoost in 2010; the 1.6-litre EcoBoost followed in 2011 and last year the 1.0-litre EcoBoost was launched, winning the 2012 "International Engine of the Year" award.
By the end of this year, nearly 80% of the company's global nameplates will be available with fuel-saving EcoBoost technology.