It had to happen: one car maker makes a fairly funny video which goes viral around the world and so someone was bound to copy the idea in the hope of creating something that's equally as successful.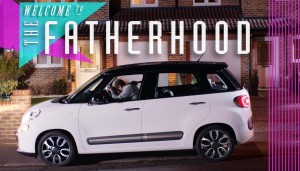 Fiat has produced another 'hilarious' video for the Fiat 500L
I wouldn't have predicted that the firm would be Fiat and that it would be another one for its Fiat 500L.
Nor would I have predicted that it would be aimed at men.
Their  YouTube film tells the 'no-holds-barred truth about life as a new dad' and it's called Welcome to The Fatherhood.
Set in the dead of night, The Fatherhood follows a weary dad-of-two trying to get his screaming babies to sleep by driving them around the neighbourhood. As he drives, he starts to sing about his long-lost youth and questions how he's gone from Jack the Lad to Jack the Dad.
With brutal honesty and humorous irony he sings to his new-borns:
"It's fine because I love you and I'd never trade your mother, But in future I'll be abstinent and double up the rubber!"
The Fatherhood is, allegedly, a humorous, edgy insight into the mind of a new dad.
Inspired by a nationwide survey which revealed new parents drive on average 1,300 miles a year trying to get their children to sleep (for non-parents out there  – you'll soon learn this marvellous trick. You will appreciate the 'bumpier' roads. Oh, yes.).
The Fatherhood takes viewers back to the glorious 80s with a catchy tune and a time when New Romantics were young and carefree.  With serious poses to camera and dreamy dance sequences, the film takes visual cues from the 80s music videos everyone loves to hate.
The Fatherhood features the new Fiat 500L, Fiat's latest addition to the Fiat 500 family.
The new Fiat 500L is aimed at style-conscious young families who are looking for a car that not only meets their practical needs but also reflects their personality. Significantly larger than the iconic Fiat 500, the Fiat 500L is plenty big enough for a family of five, whether on a night-time mercy mission, or a holiday in the Lake District.
The Fatherhood – it's a Dad's life. Watch it at youtube.com/fiatUK
As with most Fiats, check out their leasing prices since they will surely be lower than buying a Fiat 500L outright.
Perhaps then we will get to see a man actually driving a Fiat 500L!